Gorakhpur: 16 more child dies at BRD Medical College in 24 hours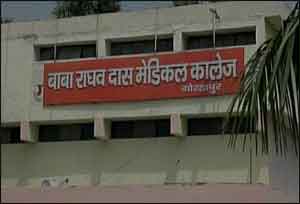 Gorakhpur: After the number of deaths cases at Gorakhpur's Baba Raghav Das (BRD) Medical College, the hospital again has reported the sixteen more deaths of children in short span of 24 hours.
Off the children who died, ten were admitted in the Neonatal Intensive Care Unit (NICU) while six were in the paediatric ICU.
It is reported that about 20 children, afflicted with Acute Encephalitis Syndrome (AES), were admitted to the hospital in the last 24 hours from Deoria, Kushinagar, Maharajganj, Basti, Balrampur, and Bihar. Only four survived.
Dr Mahima Mittal, Head Medicine, informed DNA that most of these children were admitted in a very critical stage and almost had no survival chances. "We had put them into the ICU and NICU but despite our best efforts they succumbed."
Official sources said that among deceased children one each was from Deoria, Gorakhpur and Ambedkar Nagar districts. Sources said that 1045 patients of encephalitis were admitted in BRD medical college since last January 1, 223 of them have been died due to disease.
Read also: Gorakhpur Deaths: 3 more kids die due to encephalitis