Government in consideration of scrapping MCI.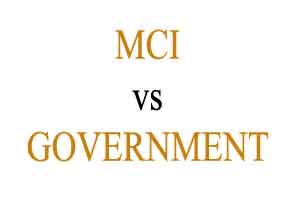 In order to support creation of maximum medical colleges and churning maximum doctors, the government is now planning to give a major overhaul to the apex medical association, MCI (the Medical Council of India). In addition, there is an immediate focus on delivering and increasing number of doctors and paramedical staff. States such as Bihar, Uttar Pradesh, Jharkhand, Chhattisgarh and Odisha, have been laid stress on.

Rumors are floating that India's apex medical regulatory body may even be scrapped, if the recent discussions between the Prime Minister and the Health Ministry are to be followed. Instead of serving the purpose for which it was actually formed, MCI is reported to have instead become one of the major stumbling blocks towards a faster expansion, especially when it comes to ensuring quality education as reported by TOI.

However, sources from the government point out that such a drastic measure has ruled out at the moment. The government has set up a three-member committee to work out a blue print to reshape and revamp the current set up of the council. The high-powered committee has Niti Aayog vice-chairman Arvind Panagariya, PM's additional principal secretary P K Mishra and Niti Aayog chief executive officer Amitabh Kant as members.

The deep-routed issues of Medical Council Of India had majorly come to highlight when the parliamentary committee had submitted its report to the parliament. The report had dedicated a full chapter to the existing Corruption at MCI, which highlighted the MCI president's admission that "corruption was there when there was sanctioning of medical colleges or increasing or decreasing seats". It was told that "private medical colleges arrange ghost faculty and patients during inspections by the MCI and no action is taken for the irregularity". The committee had further found MCI's inaction in this regard enigmatic.

Not only this, there is also the issue of government having no control over the actions of MCI. The committee noted

"The Committee notes that though all powers of approval/disapproval as per the MCI Act 1956 rest with the Central Government and all permissions are issues in its name, yet the Central Government has no power to disagree with the MCI. After comprehensive consideration, the Committee observes that the Government is the most important stakeholder in shaping health system in all its dimensions and attending to a range of reforms in medical education and practice. To push its policy and vision of health, the Government is, therefore, entitled to give directives to the MCI on policy matters of national importance.  The Committee, therefore, recommends that the Government should have the power to give policy directives to the regulatory body"

With the glaring deficiencies of MCI, the government is on its path for an immediate re-structuring of MCI.