Govt aims 3000 Jan Aushadhi stores this fiscal Year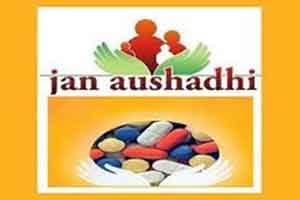 New Delhi: The government said it aims to open 3,000 Jan Aushadhi Kendras this fiscal across the country to sell medicines at cheaper rates.
This was informed at the Consultative Committee meeting of Chemicals and Fertilizers Ministry held, an official statement said.
The subject for the meeting was National Pharmaceuticals Pricing Authority (NPPA). Chemicals and Fertilizers Minister Ananth Kumar, chaired the meeting. Minister of State for Chemicals and Fertilizers Mansukh L Mandaviya was also present.
A presentation was made on the behalf of NPPA, which showed its activities and steps taken by it to regulate the prices of medicines falling under the National List of Essential Medicines.
The customer friendly initiatives and the e-initiatives taken by the authority were also presented.
Mandviya said the government aims to open 3000 Jan Aushadhi Kendras across the country this year.
Over 500 medicines are being provided in these kendras at cheap rates, he added.
The government had recently said that 437 Jan Aushadhi Kendras have become operational across the country.
Maximum number of Jan Aushadhi Kendras are in Chhattisgarh at 122, followed by Uttar Pradesh 53, Maharashtra 35 and Kerala 33. Odisha and Punjab have 25 and 23 such centres.
The members of Parliament (MPs) gave their suggestions and recommendations for improving the system of providing medicines to poor at affordable rates.
Mandaviya briefed the members about the Pradhan Mantri Jan Aushadhi Scheme. He sought the cooperation of all MPs in opening Jan Aushadhi Kendras in their constituencies.
Ananth Kumar explained the steps taken by the government in bringing more medicines under the price control.
He said the consumers have saved over Rs 5,000 due to the government s interventions.
Kumar said the government also intends to set up the Indian council of Fertilizers and Nutrients Research so that research can be undertaken for providing appropriate fertilizers and manures to the farmers.
He said Neem coated urea is helping in balanced use of fertilizers and reducing the use of pesticides.