Govt Doctor in trouble after being caught on camera working at a private clinic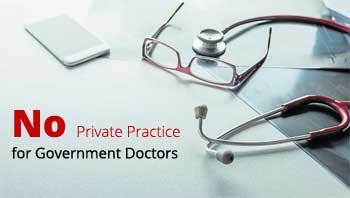 Sambalpur: A doctor posted at Veer Surendra Sai Institute of Medical Sciences and Research (VIMSAR), Burla has been caught on camera while working in a private diagnostic clinic during duty hours.
Director of VIMSAR, Aswini Pujahari, first noticed the doctor of Radio-Diagnosis department, B B Panda on Sunday engaged in the malpractice.
"I had gone to the department on Sunday. There was no consultant doctor at the department. Only a PG student was on duty. I made call to the doctor who was on duty to come to department. Though I made the call at 11 AM, the doctor did not come till 1 PM. Later, I got information that the doctor was in a private diagnostic centre," Pujahari said.
Stating that he personally visited the private diagnostic centre and found the doctor working there, Pujahari said "I video-graphed the activity of the doctor at the private diagnostic."
He said action will be taken against the doctor so that such activity is not repeated by other doctors. The matter will also be placed before the disciplinary committee of VIMSAR.
The accused Dr Panda, however, said he was at the diagnostic and claimed since it was Sunday and a holiday, he worked there for some time.
"I had visited the department on Sunday morning and inquired whether there was any case. And when I found that there was no case, I went to the market. Subsequently, I went to the private diagnostic," Dr Panda clarified.