Govt to ensure affordable, quality healthcare for all: Nadda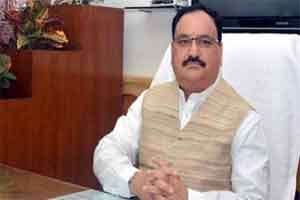 Mumbai: Union Health Minister J P Nadda said the government was striving hard to offer affordable and quality healthcare services to all.
"Healthcare is a comprehensive field that requires support from all stakeholders for optimum delivery. Government is striving to ensure that all have access to affordable and quality healthcare services," Nadda said at a national seminar of medical and dental students here today.
The minister said concerted attempts at controlling the communicable diseases through various national healthcare programmes and interventions have brought down the mortality and morbidity arising from such illness.
Lamenting the shortage of doctors, Nadda said his ministry was tackling the issue by rapidly raising the capacity for training undergraduates and postgraduates in the existing medical colleges and also by establishing new medical colleges.
"Existing premier medical colleges are also being upgraded with top class infrastructure and facilities to achieve this," Nadda said, adding in the past three years, 86 medical and 12 dental colleges were set up. PTI AP Indian Oil launches new cryocan
Nashik: The nations largest oil marketing company, Indian Oil, today launched a 0.5-litre cryocan to help dairy farmers in remote areas to store the semen of bulls.
Manufactured by Indian Oils Business Group-Cryogenics in Nashik, the pronduct was launched by chairman B Ashok in Nashik. The company already makes other models of cryocan, which is used for cryo-preservation of bull semen for artificial insemination, tailor-made primarily for the use in hilly and remote areas.
Cryocans are portable devices that can store semen at ultra low temperature of -196 degrees as it uses liquid nitrogen to maintain the low temperature.