Gujarat: Doctor arrested in Fake Note Scam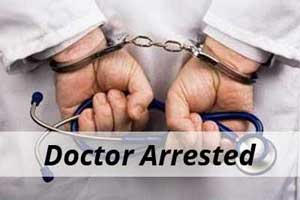 Rajkot: In a crackdown, a city-based doctor associated with Khutwada Public Health Centre (PHC) has been arrested along with five others for allegedly counterfeiting a total of Rs 1,65,200 in currency notes of various denominations.
The Government doctor and 5 others were nabbed by the Bhavnagar Special Operation Group (SOG) after conducting a raid based on a tip-off. The cops were informed that the kingpin would visit Mota Khutwada village to disseminate counterfeit currency.
Also Read: Fake CPS Certificate Scam: Chargesheet filed against Pediatrician
Following this, Inspector S N Barot with Bhavnagar SOG kept a watch at a canal. Soon after an accused arrived with two others to collect the false notes. However, they were nabbed by the cops who were already waiting in their den.
Thereafter, the kingpin's house in Neswada village was raided and high-value counterfeit currency notes were seized. The three accused, who were arrested drove the cops to the hideout of the other accused in Dhokalva village. This is where the bogus currency notes were printed.
Also Read: Bogus Caste Certificate Scam for MBBS Admissions: Senior Pulmonologist arrested from Index Medical College
SOG has seized a total of 53 fake notes of Rs 2,000 denomination, 116 currency notes of Rs 500 denomination, two currency notes of Rs 200 denomination and eight notes of Rs 100 denomination so far, reports  TOI.
A couple of months ago, Medical Dialogues had reported that a 46 years old Government doctor associated with the Primary Health centre (PHC) in Sangli district, developed by the state government to provide free medical treatment to villagers, was arrested by the Anti Corruption Bureau (ACB) of Maharashtra.
The patient approached the MBBS doctor for the examination of his injured foot. The doctor suggested that he needs to take an injection for his injury and allegedly demanded Rs 30/- for the same.
Also Read: Caught Red Handed: MBBS Doctor arrested for taking Rs 30 bribe