Gujarat: Surat Doctors on strike after another incidence of violence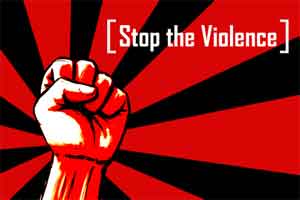 Surat:  More than 100 resident doctors of Surat Municipal Institute of Medical Education and Research (SMIMER) continued to stay off work for four days in a row, in protest against an attack on three doctors and two ward boys of the hospital, by relatives and friends of a patient.
Three doctors and two ward boys at SMIMER who suffered injuries, on Tuesday, met a sad fate after a 17 year old patient Hitesh Jadav, who accompanying a procession bringing a Ganesh idol met with an head injury as a loud speaker fell on his head and was brought to the hospital. The hospital was unable to provide immediate CT Scan to him as the machine at the hospital was not in working order. This incapacity and the subsequent delay in treatment of the patient angered the mob of 20 odd persons who were accompnaying the patient . This mob of  20 persons then abused and thrashed the  doctors and ward boys of the health hub. Resident doctors Samarth Patel, Mitesh Modi and Lalit Patel suffered major injuries along with ward boys Jignesh Patel and Rakesh Patel as the group punched and kicked them. The group also damaged furniture, partition and doors at the hospital. Police later arrested Chetan Parmar, Vijay Makwana and Abhishek Patel for the violence
[embed]https://www.youtube.com/watch?v=zuyGRA1YhPY&feature=youtu.be[/embed]
The resident doctors are refusing to get back to work till ex army men are deployed as guards for their security. The college authorities are in the meanwhile, trying to end the deadlock and bring the doctors back to work.
"Things are moving in positive direction. We have agreed to improve the security and the process has begun. It will improve in some time," said Kalpana Desai, Dean, SMIMER.
SSG joins strike in support
Resident doctors of SSG hospital in Vadodara are reported to have gone on flash strike on Friday to express solidarity with resident doctors of Surat Municipal Institute of Medical Education and Research (SMIMER) reports TOI .
"All this happens very often. In spite of all the hard work we do, we have to face rowdy elements which is not part of our duty," said Aashna Karbhari, a resident doctor of SSG hospital, adding that all the residents were on strike from 1 pm to 8 pm. Professors, assistant professors and consultants manned work at casualties, emergency and other wards due to the flash strike. "Our basic demand is to provide adequate security to residents who have to deal with notorious elements almost every other day," said Ms. Karbhari.