Haryana: Health cards to be issued to 2.5 crore population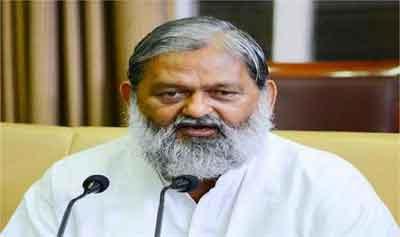 Chandigarh: Haryana will soon become the first state to issue health cards to all its 2.5 crore citizens to facilitate them in getting treatment without repeated check-ups, state Health Minister Anil Vij said.
"Tenders have been allotted to private agencies to prepare the health cards," Vij said in an official statement here.
He said that these health cards would facilitate the people in getting treatment for their ailments without repeated check-ups.
The minister said that 19 Community Health Centres (CHCs) and 72 Primary Health Centres (PHCs) were being constructed in the state.
Meanwhile, Haryana government would soon set up a tertiary care cancer centre in Civil Hospital, Ambala Cantt with the assistance of the central government, Vij said later in Ambala.
"This centre, which costs Rs 45 crore, will provide advanced treatment facilities to the people from all over north India," Vij, who was addressing the gathering after inaugurating the OPD block of new building of Civil Hospital in Ambala Cantt, said.
The Minister, who got his digital medical record created on the occasion, said that digital records were being prepared for patients undergoing treatment in all government hospitals in the state.
"This will enable doctors to easily access the patient's entire medical history online," he said.
With a view to minimise the number of casualties due to road mishaps, the State Government launched the 'Atal Jeevan Rakshak Yojana', under which 40 ambulances, equipped with all necessary facilities, would be deployed on the highways here, he said.
These ambulances would be deployed in such a manner that they would be able to reach the nearest government or private trauma centre within half an hour. As many as 14 such ambulances have so far been purchased and 26 would soon be purchased, he added.