Haryana: Health minister issues direction for checking dengue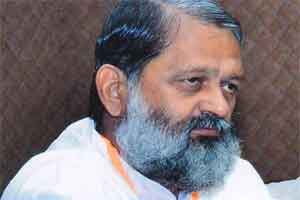 Chandigarh: Haryana Health Minister Anil Vij directed all Deputy Commissioners and civil surgeons in the state to take effective measures like fogging and anti-larvae spray to prevent the spread of malaria, dengue and chikungunya.
He also directed all civil surgeons to ensure supply of medicines and proper management of beds in hospitals.
Kits have been made available in all districts to test patients for dengue according to the prescribed norms. The private hospitals cannot charge more than the prescribed fee for Elisa test, he said.
They would have to display the rates list, Vij said.
He said that in case a patient is found suffering from dengue, he would be certified only by the laboratories of district hospitals of the state government and no other hospital would confirm the disease at its own level.
This rule would have to be followed by all government-run primary and community health centres, sub divisional hospitals and private hospitals, Vij said.
He said that due to the spike in dengue and malaria cases in Delhi, the nearby areas of the state were getting affected and special teams have been formed to control the diseases.
Doctors, laboratory technicians, mosquito breed checkers and other supporting staff are being deputed in Mewat, Ambala, Yamunanagar and other affected districts, he said.
He directed the deputy commissioners to ensure that fogging and anti-larvae measures are carried out in urban and rural areas on priority basis.
In case any kind of leakage in tube-wells, water pipes, water pumps and taps, the Public Health Engineering Department would promptly ensure its repair, he said, adding that it will help in checking the possibility of breeding of mosquitoes in stagnated water.