Haryana includes injectable contraceptives for family planning: Vij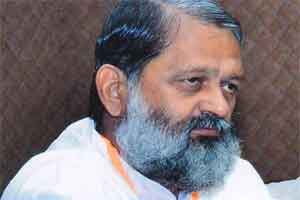 Chandigarh: Haryana is the "first State" in the country to include injectable contraceptives among the family planning measures, state Health Minister Anil Vij said.
In the last two years, the state has made exemplary reforms to further improve health services, he said.
The minister said last year, Haryana became one of the four states to provide Rotavirus vaccine free of cost.
Rotavirus is one of the leading causes of diarrhoea among children and each dose costs about Rs 3,000 which is borne completely by the government, Vij said in statement.
He said that with a view to further expand health facilities in the state, 570 necessary drugs were being provided free of cost.
"Ten hospitals, 14 Community Health Centres (CHCs) and 20 Primary Health Centres (PHCs) have been constructed in the last two years," the minister said.
Besides, 30 buildings have been repaired and four hospitals, 13 CHCs and two PHCs have been upgraded. While the facility of MRI has been provided in two hospitals and three medical colleges, CT Scan facility has been made available in four hospitals and three medical colleges, Vij said.
To facilitate cancer patients, 710-bedded National Cancer Institute is being set up at Badsa in district Jhajjar, and tertiary care cancer centre at Civil Hospital, Ambala Cantt, he added.