Haryana: Health Minister refuses to chair PC-PNDT Meeting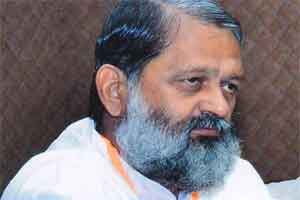 Chandigarh: A meeting on PNDT Act in the chairmanship of the Haryana Health Minister, Anil Vij was supposed to happen today, but did not take place as the minister refused to chair the meeting.

According to a report by The Indian Express, The Health Minister is annoyed over not being given any information and being neglected from being kept in the loop of the programs related to the Pre-Conception and Pre-Natal Diagnostic Techniques Act., by the "Beti Bachao, Beti Padhao" secretariat overseeing the act.

An official communication regarding the same has been sent the CM as well .Vij has also asked the CM that the rules under which he is required to chair the meeting relating to the matter should also be changed, as without proper information he cannot attend the meeting.

The Pre-Conception and Pre-Natal Diagnostic Techniques Act is looked after by the "Beti Bachao, Beti Padhao" secretariat, which falls under IAS officer, Rakesh Gupta, who is in the rank of Additional Principal Secretary to the CM. The secretariat is set at the CM office itself.

Vij said, "The issue was raised in the Vidhan Sabha as well where I had said Rakesh Gupta should give the reply as I was not aware of the issue on which the question was asked".

"A meeting is required to be held under the chairmanship of the Health Minister. But the CM has made a cell headed by Rakesh Gupta that is overseeing the work of PNDT. I have no information on the issue or activities undertaken by this cell. They [Rakesh Gupta and his staff] do not tell me or ask me anything. Why should I chair the meeting in such a case?" Told Vij

He added that  "All our Chief Medical Officers are so frightened with that man [Rakesh Gupta], that they ask who is their boss, whether it is me or him. I cannot explain to them because I am not clear myself. So I said it is better that the meeting is chaired by Rakesh Gupta as he knows what is happening across the state on the PC&PNDT Act front."

The tussle between Gupta and Anil Vij is not a new issue as in November last year, a letter to the Deputy Commissioners and Civil Surgeons was written by the then Additional Chief Secretary asking them to not attend any video-conference called by Rakesh Gupta on PNDT without taking due permission from Vij.

PNDT Act was enacted by the parliament of India in order to stop female feoticides and stop the decline of female sex ratio in the country. With this act the prenatal sex determination was banned.