Health Minister Awards Dr Sumit Sinha for special contribution to medicine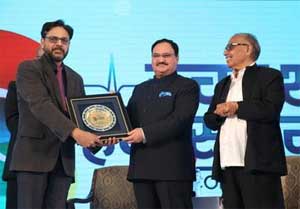 Gurugram: J.P Nadda, Minister of Health and Family Welfare the Union Minister, confers award to Dr. Sumit Sinha, Director Neurosurgery and Spine, Paras Hospital Gurgaon, at 'Swasthay Hindustan Conclave'.
Dr. Sumit Sinha, an AIIMS Alumni, was facilitated for achieving academic excellence and extensive work in social sphere for creating awareness on prevention of spinal injuries and neurological trauma.
In a unique event organized by Zee Hindustan, Dr (Prof) Sumit Sinha, Director Neurosurgery and Spine, Paras Hospitals Gurgaon I Gurugram, was felicitated by Dr J.P Nadda, Union Minister of Health and Family Welfare, for his exceptional contribution towards the medical field, especially neurosurgery and spine surgery.
The event - 'Swasthay Hindustan Conclave' included the participation of major doctors and healthcare professionals from all parts of the country. The awards were adjudged by a specialized panel that listed the contributions, success rate of the respective doctors.
"It is a proud moment for Paras Hospitals Gurgaon, having one of our most esteemed panellists being recognized by Honourble Minister of Health, Shri J.P Nadda, himself at the prestigious event. Dr. Sumit Sinha has achieved numerous feats in his career and we congratulate him for yet again adding another feather to his cap. We have been offering the best Neurosurgery service and exceptional trauma care, and Dr. Sinha's presence has further enhanced our services. With this award our commitment has further emboldened for serving the people of Gurgaon region with un-interrupted super specialty care," said Dr Neeraj Bishnoi, Facility Director, Paras Hospitals, Gurgaon I Gurugram.
An alumnus of All India Institute of Medical Sciences, New Delhi, Dr. Sumit Sinha is a reputed and accomplished neurosurgeon and has extensive experience in the field of Neurosurgery, having shared the space with internationally renowned doctors and specialists.
Acknowledging the receipt of the award, Dr Sumit Sinha, Director Neurosurgery and Spine, Paras Hospitals Gurgaon, said,"I have been trained in one of the finest institutions of the country - AIIMS, New Delhi. This honour of being awarded for my medical contributions in the file of neurosurgery and spine surgery is overwhelming. I thank the organizers of 'Swasthy Hindustan Conclave' in showing confidence in me. Their appreciation has motivated me to continue my endeavors that all patients receive the best care. I shall also ensure that the standards of neurosurgery care are taken to new heights and at Paras Hospitals, Gurgaon I Gurugram, we are able to etch new clinical success stories."
Dr Sumit Sinha has also been trained in spinal surgery and is a qualified teaching faculty for AO Spine (International), a non-profit organization for the dissemination of knowledge about spinal pathologies, all over the world. He is engaged in various teaching and research activities both in the country and abroad. His primary expertise and interest is in minimal access spinal surgery, one of the latest techniques involving less pain and trauma to the patient. An accomplished brachial plexus and peripheral nerve surgeon, Dr. Sinha has vast experience having performed over 250 complicated cases of nerve injury with a high success rate.
Apart from his academic achievements, Dr. Sinha represents Paras Hospital Gurgaon in actively fulfilling the social responsibility by spreading awareness on neurological disorders and injuries, specially focusing on preventing accidents that can cause severe trauma to the victims.