Health Ministry approves 165 MD,MS seats in 19 Medical Colleges, checkout details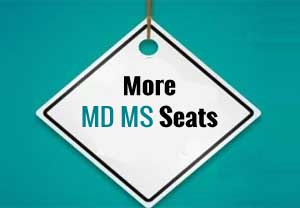 New Delhi: Through a recent notification, the Ministry of Health Ministry and Family Welfare has granted permission for Starting and/increasing number of seats in various MD/MS courses in various medical colleges of the country. With the recent approval, it is expected that 165 more PG seats will be added to 19 medical colleges in the country.
The Health Ministry has specified the condition for the following colleges stating that this permission for starting/increase of seats in the below-listed courses and admission of students will be till such time the first batch of students admitted against the above courses appears for the first final examination in the subject.
The College authorities may take up the matter for recognition of the qualifications under Section II (2) of IMC Act at the time of the first batch admitted against the course appears for final year examinations.
Following are the details




S.NO


Name of the College


Course Name 


Status of Seats 




1


Geetanjali Medical College & Hospital, Udaipur


Increase: 

MD (Paediatrics)

MS (Obstetrics & Gynaecology)






06 (Six) to 08 (Ei8ht) Seats

05 (Five) to 09 (Nine) Seats






2


Shimoga Institute of
Medical Sciences


Starting:

MS (Otorhinolaryngology)


02 (Two) Seats




3


Guru Gobind Singh Medical College, Faridkot


Starting:

MS (Obstetrics & Gynaecology)


04 (Four) Seats




4


Chengalpattu Medical
College, Chengalpattu, Tamil Nadu


Starting:

MS (0torhinolaryngology)


02 (Two) Seats




5


Kalinga Institute of Medical Sciences, Odisha


Increase:

MS (OBG)


03(Three) to 09 (Nine) Seats




6


RaiaRaieshwari Medical
College & Hospital


Increase: 

MS (Orthopaedics)


06 (six) to 08 (Eight) seats




7


GSL Medical College & General Hospital, Rajahmundry, Andhra Pradesh


Increase:

MD (Pathology)

MD (Community Medicine)

Ms (OBG)

MD (DVL)






02 (Two) to 06 (Six) seats

02 (Two) to 06 (Six) seats

03 (Three) to 06 (Six) seats

03 (Three) to 04 (Four) Seats




8


Shri Satya Sai Medical College & Research Institute., Tamil Nadu


Increase:

MD (Respiratory Medicine)


01 (One) to 02 (Two) seats




9


Rohirkhand Medical college & Hospital, Bareilly


Increase:

MS (Orthopaedics)

MD (Anesthesiology)

MD (Radio-Diagnosis)


02 (Two) to 06 (Six) Seats

03 (Three) to 09 (Nine) Seats

02 (Two) to 05 (Five) Seats




10


Thoothukudi Medical College,
Tamil Nadu


Starting:

MD (Paediatrics)

MS (General Surgery)

MS (Obstetrics & Gynaecology)

MD (General Medicine)




06 (Six) Seats

10 (Ten) Seats

06 (Six) Seats

10 (Ten) Seats




11


GCS MedicaCollegege, Gujarat


Starting:

MD (Respiratory medicine)

MD (Paediatrics)

MS (Ophthalmology)


02(Two) Seats

05(Five) Seats

02(Two) Seats




12


Shree Guru Gobind Singh
tricentenary medical College & Hospital & Research Institute Gurgaon


Starting:

MD (General Medicine)

MS (General Surgery)

MS (OBG)

MD (Psychiatry)

MS(Otorhinolaryngology)

MD (Paediatrics)

MD (Radio Diagnosis)








08 (Eight) Seats

08 (Eight) Seats

04 (Four) Seats

02 (Two) Seats

02 (Two) Seats

04 (Four) Seats

06 (Six) Seats








13


Mandya Institute of Medical Sciences, Bangalore


Increase:

MD (Pathology)

Starting:

MS (Orthopaedics)

MD (Paediatrics)




2 (Two) to 4 (Four) Seats

3 (Three) Seats

2 (Two) Seats




14


IQ-City Medical College, Burdwan


Starting:

MD (Bio-Chemistry)


3 (Three) Seats




15


Govt. Medical College,
Haldwani


Starting:

MD (Respiratory Medicine)


02(Two) Seats




16


Mahatma Gandhi Medical College
& Hospital Jaipur


Increase:

MS (Otorhinolaryngology)

Starting:

MD (Radio-Therapy)

MD (Forensic Medicine)


2 (Two) to 4 (Four) Seats

2 (Two) Seats

2 (Two) Seats




17


K A P Viswanathan Govt. Medical College, Trichy, Tamilnadu


Starting:

MD (Anatomy)

Starting:

MD (Pathology)

MS (Ophthalmology)




3 (Three) Seats



6 (Six) Seats

2 (Two) Seats




18


Shree Guru Gobind Singh
Tricentenary Medical College & Hospital & Research Institute Gurgaon


Starting:

MD (Anaesthesiology)

MD (Respiratory Medicine)




6 (Six) Seats

2 (Two) Seats




19


Gujarat Adani Institute of
Medical Sciences, Bhu


Starting:

MS (Orthopaedics)


05(Five) Seats