Health Ministry conducts National Deworming Day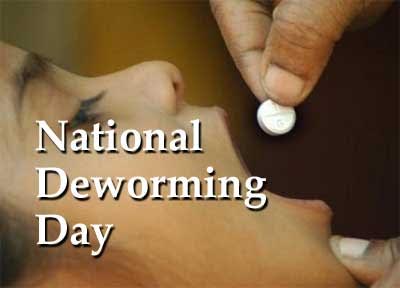 New Delhi: Ministry of Health and Family Welfare conducted its eighth round of National Deworming Day on Friday.
NDD is observed bi-annually on February 10 and August 10 in all states and UTs followed by mop-up activities. This year the NDD is being conducted on February 8 and mop up day on February 14.
This key program initiative is implemented with an objective to reduce the prevalence of Soil-Transmitted Helminths (STH) or parasitic intestinal worms so that they are no longer a public health problem.
As per WHO, 64 per cent of the Indian population less than 14 years are at risk of STH infections. Launched in 2015 through a single fixed day approach, the NDD program in this round targets to reach 24.44 crore children and adolescents in 30 states, UTs, in the age group of 1-19 years, an official statement here said.
The program is implemented with the Ministries of Women and Child Development and Human Resource Development, where the Anganwadi workers and teachers administer deworming medicine to children and adolescents at the anganwadis and schools.
Read Also: Deworming: Govt aims to cover over 32 crore kids, says Nadda
ASHA workers support the efforts through community mobilisation and sensitisation of communities about the ill effects of worm infestations, it added.
In this round of NDD, there will be enhanced participation from private schools and institutions where all children 1- 19 years old are engaged, such as technical institutes, junior colleges and others.
The NDD program is a cost-effective program at the scale that continues to reach crores of children and adolescents with deworming benefits through a safe medicine Albendazole. Deworming has shown to reduce absenteeism in schools; improve health, nutritional, and learning outcomes for children; and increase the likelihood of higher-wage jobs later in life as per global evidence.