Health Ministry launches measles and rubella vaccination campaign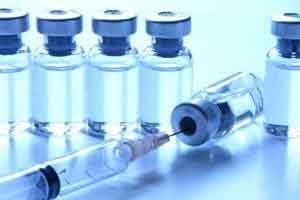 Measles is a deadly disease and one of the important causes of death in children. It is highly contagious and spreads through coughing and sneezing of an infected person. Measles can make a child vulnerable to life threatening complications such as pneumonia, diarrhoea and brain infection. Globally, in 2015, measles killed an estimated 1, 34,200 children—mostly under-5 years. In India, it killed an estimated 49,200 children.
Rubella is generally a mild infection, but has serious consequences if infection occurs in pregnant women, causing congenital rubella syndrome (CRS), which is a cause of public health concern. CRS is characterized by congenital anomalies in the foetus and newborns affecting the eyes (glaucoma, cataract), ears (hearing loss), brain (microcephaly, mental retardation) and heart defects, causing a huge socio-economic burden on the families in particular and society in general.
In 2010, an estimated 1,03,000 children were born with CRS (congenital rubella syndrome) globally, of which around 47,000 children, i.e. 46% were in South-East Asia Region. Through implementation of rubella vaccination strategies the incidence of rubella has been substantially reduced in many countries. Although coverage for measles (MCV-1) vaccination is high, the country population immunity is insufficient to stop ongoing MR transmission as evident form surveillance data. Through this campaign, it is aimed to rapidly build up immunity in the susceptible cohort, thereby decreasing the disease burden in the country.
The measles disease burden was brought down by introduction of second dose of measles vaccine in 2010. For this introduction, supplementary immunization Activity (SIA) was conducted in 14 states (2010-13) with less than equal to 80% measles coverage. The remaining states introduced measles second dose directly in routine immunization. However, those gain need to be supplemented, and in order to further reduce the burden, country is going to carry out the Measles-Rubella campaign.
Measles immunization directly contributes to the reduction of under-five child mortality, and with combination of rubella vaccine, will control rubella and prevent CRS in country population. Given the wide target group of the vaccination campaign, schools and educational institutions will play a critical role, and will require partnership from multiple stakeholders at all levels.
Also present at the function were Dr. Arun K. Panda, ASMD, MoHFW, Shri S.C. Khuntia, Chief Secretary, Karnataka, Dr. Shalini Rajneesh, Principal Secretary, Karnataka, Smt Vandana Gurnani, J S (RCH, IEC), MoHFW, other senior officers of the Ministry and representative of development partners.