Homeopathy Practitioners have no Authority to Administer Allopathic Medicines: NCDRC while slapping Rs 10 lakh compensation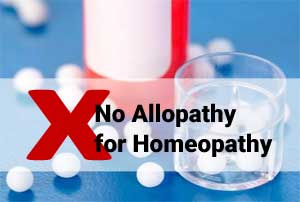 New Delhi: Holding that homeopathy practitioners have no authority to administer allopathic medicines, the National Consumer Disputes Redressal Commission (NCDRC) slapped a compensation of Rs 10 lakh on one such practitioner who administered allopathic injections to patient, who later died due to reaction to the said injections
The case goes back to year 200o, when a female patient was taken to a homeopathy practitioner with complaints of stomach ache. The homeopathy practitioner administered two injections one of Baralgan, and another of Dexamethasone
When the patient immediately felt giddiness and, therefore, the took her on his own vehicle to another Nursing Home and at that time in that hospital, one doctor examined her and said that her condition is critical and, therefore, she was referred to Government Medical Hospital. The patient died soon after


The district forum dismissed the petition, in light of pendancy of criminal court case against the practitioner. The forum stated that if in a criminal court, it is proved that the wife of complainant is dead due to the negligence of non-applicant, he may came before the forum for his redressal.


The patient's family then appealed in the state commission. The state commission after going through all the evidences and responses noted that the post mortem examination report of the deceased reveals two marks of administration of injections on the arm of the deceased and cause of death of deceased as Anaphylactic Reaction. The said post mortem examination report is not disputed by the OP.
"It is thus proved that the death of deceased was occurred due to the reaction of the two injections given by the OP to her," the court noted
The state commission further noted
It is also clear that the OP being a Homeopathic practitioner, is not having any authority to administer allopathic medicines i.e. injections to the patient. Thus, without any authority he administered the said injections of allopathic medicines to the deceased, and as her death is caused due to reaction of the said injections, it proves per se negligence on the part of OP.
Holding the practitioner guilty the court directed a composition of Rs 3 lakh. The practitioner then approached NCDRC challenging the state commission order.
The NCDRC, after going through the case details noted that in his reply to the legal notice of the complainant, the opposite party doctor has admitted that two injections were given by him to the patient and that she collapsed immediately thereafter. The post mortem report also clearly shows two injection marks, which supports that the opposite party doctor gave two injections.
The court noted that the opposite party doctor was a diploma holder in homeopathy and not a qualified allopath.
The court upheld the State Commission order stating that the opposite party doctor as unqualified to practice allopathy and has held him liable for medical negligence. At the same time, NCDRC enhanced the compensation amount to Rs 10 lakh
Considering the case in its entirety, and, inter alia , specifically, that the death of the patient occurred in 2000, and we are now in 2019, and the patient died at a young age (in her 20's), and left behind her husband and (as of then) two minor children (one son and one daughter), though it is difficult to quantify life in monetary terms, in our considered view, compensation of Rs. 10 lakh with simple interest @ 12% per annum from the date of arguments before this Commission i.e. from 04.10.2018 would be just and equitable in the totality of the facts and specificities of the case.
Attached is the judgment below