Hospital Hoarding Announces NO Commission to Doctors, rakes controversy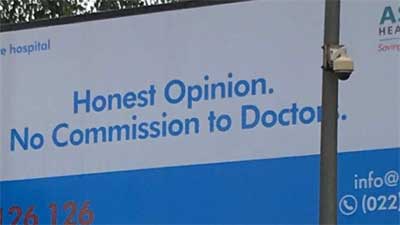 Mumbai: A prominent Mumbai Hospital seems to have raked controversy in the medical fraternity, after it put up hoardings all across the city announcing that it works by providing honest opinion to its patients, and not by providing commission to referring doctors.

The said hoardings have been put up by the Asian Heart Institute, owned by the renowned cardiovascular thoracic surgeon and Padma Bhushan Dr Ramakanta Panda. The hoardings aim to put forward the mantra of the hospital and its doctors- " Honest Opinion. No Commission to Doctors."  What it also does is bring out in the open, the issue of the alleged "cut-system" in the medical profession, which like a termite, is eating away into the ethics and morality of many, who engage in this practice.

Controversy also comes out of the fact the hoarding implies the "cut system" has become a norm in the medical delivery sector. If a hospital has to showcase its honesty as a distinguishing feature, it certainly creates an opinion that the kickbacks have become a norm in the medical service industry.

The hoarding has indeed generated a very mixed reaction from the medical fraternity. While many have hailed the effort of the hospital, to address the issue of kickbacks, bringing it out in the open so that some cleanup may be initiated, many in the medical fraternity have criticized the hospital for doing its marketing by implicating the entire medical profession.

IMA asks hospital to take the hoarding down

The hoarding has not gone well with the Indian Medical Association, which pointed out that the advertisement puts the entire medical profession in a very bad light, showing that doctors are unethical.

IMA president Dr Ravi Wankhedkar told TOI, "What is being claimed in the billboard is the basic work of a doctor. It's like banks saying we don't rob money. Moreover, it indirectly alleges that others are unethical." He said IMA's Hospital Board of India has written to Dr Panda, asking for the billboard to be pulled down. "We may consider moving the MCI or Maharashtra Medical Council," he added.

However, hospital officials did not reveal if they were ready to remove the advertisement.

In an official statement, the hospital said, "The aim of this advertisement was to share that we stand vehemently against cut practice. As a society and a nation, we are up against a great challenge. After we put up the hoarding, we got tonnes of congratulatory calls from doctors and hospitals."

"We have invited the IMA to stand alongside us and show solidarity in eliminating cut practice from medicine," it added.