IAP along with Nobel Laureate Kailash Satyarthi celebrate daughters day at MAMC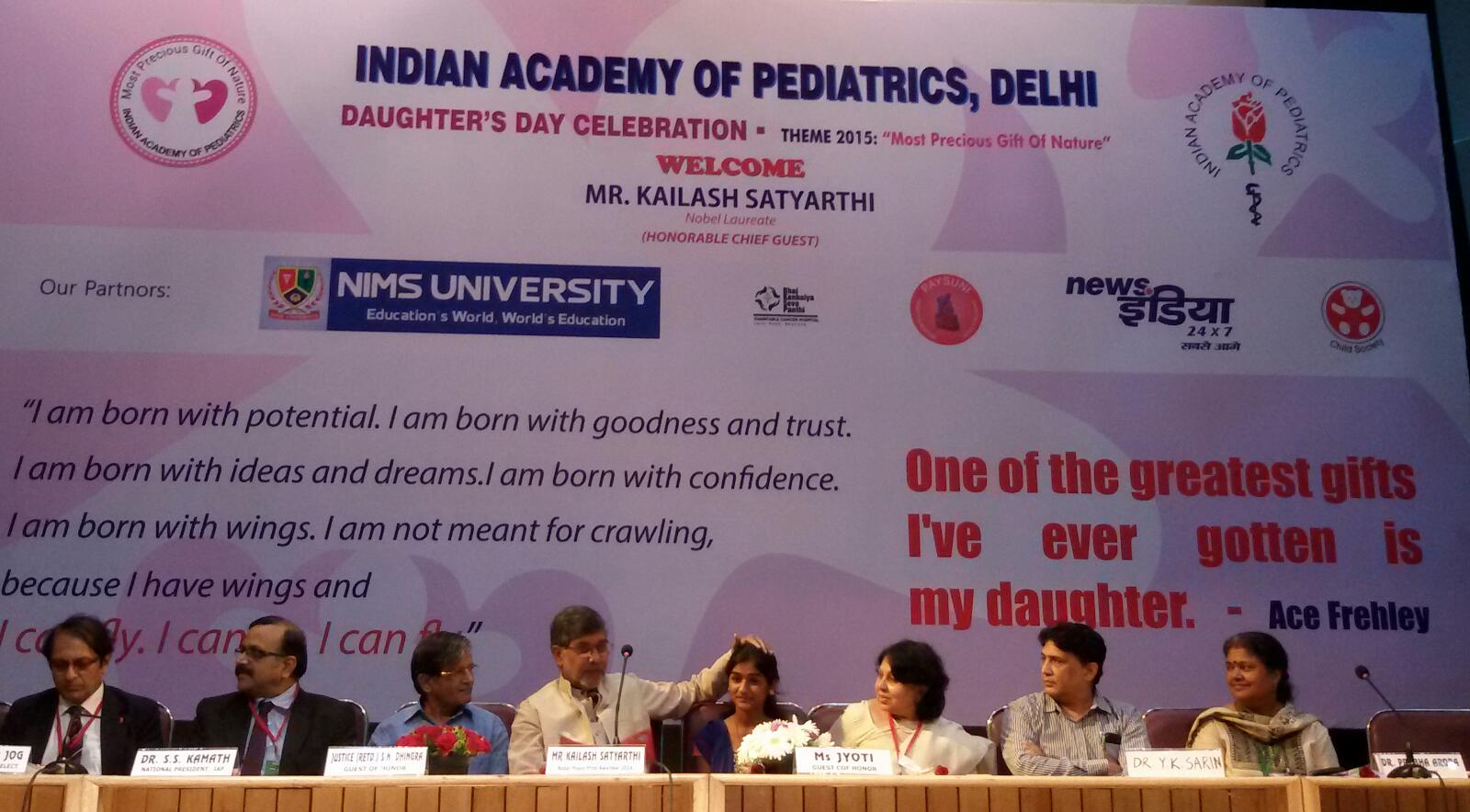 New Delhi : Indian Academy of Pediatrics  ( IAP ) celebrated daughter's day in Maulana Azad medical college, New Delhi; in presence of Nobel Peace Laureate Kailash Satyarthi, Justice S N Dhingra and Ms Jyoti , a 18 years old social activist.

The event was felicitated of the dignitaries on the dais by Dr. Kiran  Aggarwal, President IAP Delhi and she said, "The Daughter's Day celebration is unique occasion where galaxy of social problems will be countered by appropriate suggestions to the problems. This is the time for IAP to support the initiatives like Kailash Satyarthi Children's Foundation, and to apprise Hon Mr Satyarthi about the aspiration of CIAP members towards the social reforms. This is the high time when paediatrician takes the role of leader. A mother, in these anomalous circumstances, becomes culprit if she has delivered a girl baby. This leads to low self esteemed and psychological upheaval which in long run reflects on her health and growth of her baby.

Speaking on the occasion was IAP president Dr SS Kamath, father of two girls said " In the last few decades. there are 48 fewer girls per thousand boys than what was in 1981 . If you compare the statistics to other countries, there 1029 women per thousand men in North America. Similar, in Europe there are 1076 women per thousand men in europe, while ours is 940 women per thousand men. Also within the country also, the differences in ratios are shocking. It shows that there is something wrong with the culture and society now. The question is where to start. We have to appoint a lifecycle approach where a multi-pronged strategy is needed to applied to target this problem." He pointed out the dedication of the medical profession towards various programs right from the pre-natal and anti-natal care in dealing with this problem.

Nobel Peace Laureate Kailash Satyarthi said, "lt is time we break our silence. It is our silence that is leading to exploitation, abuse and mistreatment of our daughters. This violence against our children must end. It makes me angry that even today our daughters are not safe in society, in work places and even at their homes. Doctors and peadetrcians must be the first to go to villages where there is no medical help. You must do your bit. All girls are your daughters, you must raise your voice."

On this occasion Dr.Smita Mishra, program convenor said, "Efforts have been done but could not be rewarded with success. Therefore Indian academy of paediatrics the biggest organization of paediatricians decided to chip in. Globally, there cannot be a healthy society unless children are reared up in unbiased attitude!  LETS MAKE WORL CHID FRINDLY AND PROTECTIVE TOWARDS THE GIRL CHILD!

The program also saw the felicitation of Ms Jyoti, a girl from the Bedia tribe who broke the traditional barriers of the tribe where the traditional profession is prostitution and with the help of an NGO SAMVEDNA is now living a respectable life on a novel path by starting her studies in Engineering.