India committed to building resilient healthcare system: Nadda at WHO meet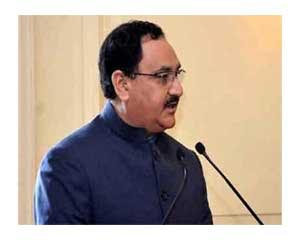 New Delhi: Union minister J P Nadda said achieving health related goals in Indian context was a daunting task but asserted the country's commitment in building a resilient system to mitigate its vulnerability to any health crisis.
Addressing the plenary meeting of the 70th World Health Assembly at Geneva, he said India has made strategic interventions in National Health Mission and the national disease control programmes to ensure quality and affordable healthcare for all.
"Achieving health related goals in Indian context is a daunting task considering India's size and regional and socio-cultural diversity," the health minister said.
He, however, expressed confidence that the country would be able to achieve the nine targets under Sustainable Development Goals (SDG) three relating to health and well being for all, Nadda said in his address.
Despite huge challenges, Nadda said, Polio and Yaws have been eliminated from the country and there has been remarkable drop in maternal, infant and neo-natal mortality rates, and total fertility rate.
He said India has adopted a new health policy aligned to the SDG three and a national task-force has been set up with the representation of key ministries, agencies and experts to translate policies into action.
The health minister reiterated that India is committed to achieving universal health coverage (UHC).
He said strengthening of healthcare systems and universal comprehensive primary healthcare through wellness centres have been identified as non-negotiable strategies towards UHC.
"We plan to achieve more than 90 per cent immunisation by 2020. We are rolling out universal population-based screening for common non-communicable diseases. There is more stress on quality improvement in public health service delivery. We plan to provide essential drugs and diagnostics-free of cost in public health facilities," Nadda said.
He also called upon all member countries to work together in building strong health systems and said, "Disease and disaster do not respect boundaries and the world cannot succeed in public health agenda unless all of us succeed together."