India committed to reforming health sector using ICT: Nadda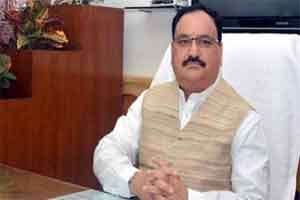 New Delhi:  Adoption of digital technology for better governance has always been central to the Indian government's policy and the country is committed to carrying out reforms in the health sector by using it, Union Health Minister J P Nadda said.
Information and Communication Technology (ICT) has great potential in improving delivery of healthcare services, he said and stressed on building digital health ecosystem in partnership with private healthcare providers, academia, industry, patient groups and regulatory bodies.
Nadda was addressing the Global Digital Health Partnership Summit, at Canberra in Australia. Improving health service delivery, compliance of people towards health and care, engaging citizens in partnering with government for planning and management of health services delivery and improving governance are four areas where India has implemented digital technology in healthcare," the minister said. He informed the gathering that his ministry has rolled out large-scale IT systems in different areas of healthcare ecosystem such as integrated health surveillance program, public health management, hospital information system and telemedicine, among others. "Such initiatives include systems for obtaining reliable information and near real-time data for policymaking, ensuring efficient program and service delivery," Nadda said.
About India's National Health Portal, the minister said. Total users of the portal till date are over 2.6 million and over 2.2 million calls were made by citizens till date. The content of the portal is currently available in six Indian languages." Providing the website's content in six more languages is being planned, he said.
Nadda said Hospital Information System is being implemented for automation of hospital processes to achieve better efficiency and service delivery in public health facilities up to community health centre level.
The health minister reiterated the government's commitment to creating integrated digital health platform and enabling the creation of electronic health record for 1.3 billion people of India.
We wish to enable hospitals and health service providers to do so by giving them free software systems and data storage facilities. In addition, we wish to use big data analytics to prioritise our interventions and become proactive in solving healthcare challenges of our citizen's Nadda said.