Indian-American doctor running for congressional election in Arizona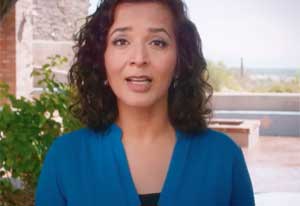 Washington: An Indian-American physician has mounted a serious challenge against a Republican candidate in a Congressional district in the US state of Arizona, hoping to pull off an upset victory in a reliably Republican bastion which analysts say could boost anti-Trump movement.
Democrat Hiral Tipirneni, who is doing research on cancer, and Republican Debbie Lesk are in the race to replace former Representative Trent Franks.
In fact, some latest polls suggests, that Tipirneni is a point ahead of Lesko in the April 24 special elections for the Arizona eighth Congressional District.
Political pundits say that a victory of Tipirneni, coming in the backdrop of a similar Democratic upset win in Pennsylvania, could give a big momentum to anti-Trump movement in the country ahead of the November general elections.
Both the Democrats and the GOP have spent massive money in the last few days given the significance of this special election.
If elected, she would be the second Indian American Congresswoman to be elected to the US House of Representative. Congresswoman Pramila Jayapal from Washington State was the first one in 2016.
"Given that Tipirneni is a Democrat running in a district that encompasses part of Maricopa County, home to Phoenix, a county President Donald Trump carried in 2016 and where, as of April 11, registered Republicans outnumbered registered Democrats almost 2-to-1, her run has seemed like a long shot. (The county is also 84 percent white)" News Week reported.
"But a recent poll put her and Debbie Lesko, a Republican state senator, within a percentage point of each other, meaning the race has been even more closely watched nationally, with the Republican establishment seemingly scrambling to send surrogates and cash," the weekly said on its website.
According to The New York Times, it's an overwhelmingly Republican district, which (Donald) Trump won by 21 percentage points in 2016. But the Democrat Tipirneni, has been doing well in the polls. The elections analyst G Elliott Morris gives Tipirneni roughly a 25 percent chance if winning.
According to The Washington Post, Republican Debbie Lesko is the favourite to replace [Franks] because of her party's 17-percentage-point registration advantage in the district.
"But at a time when independents, and even some Republicans, nationally are increasingly wary of the GOP, Democrat Hiral Tipirneni has mounted a serious challenge to Lesko," it said