Indian woman surgeon becomes IRCAD faculty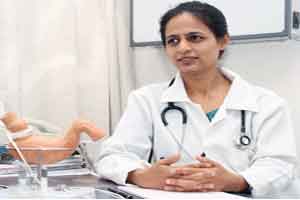 Bariatric and laparoscopic surgeon Jayashree Todkar on Saturday become the first Indian female surgeon to be chosen as faculty of the prestigious IRCAD Taiwan, the world's best training centre for minimally invasive surgeries, the organisation said.

The Taiwanese centre trains surgeons in new minimally invasive surgical techniques.

In addition to training facilities, IRCAD (Research Institute against Digestive Cancer) Taiwan runs a research and development department in the fields of computer science and medical imaging.

The institute had earlier this month urged Todkar to be part of it in terms of imparting training to young surgeons in minimally invasive surgeries, to which the doctor agreed.

Over 4,000 surgeons have been trained at IRCAD Taiwan till now.

Todkar has treated more than 25,000 patients and continues her research and treatment in advanced laparoscopic surgery, bariatric surgery, trauma, hernia surgery and metabolic surgery.

"This is a great honour to India and as there are capable doctors in India. They need to play a vital role in terms of imparting training to young doctors of the world learning minimally invasive surgery. The government along with the doctors needs to take this as a wake up call and save our country from obesity," Todkar told IANS.