Jammu: Super Speciality Hospital to get 100 bedded Cancer Institute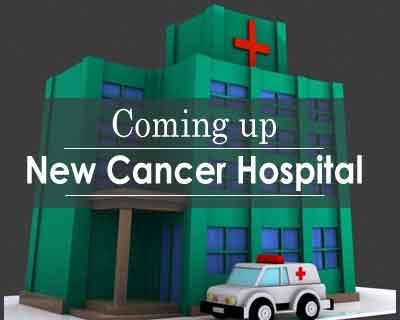 Srinagar: The Super Specialty Hospital of Jammu will soon get first 100-beded State Cancer Institute the foundation of which will be laid by Jammu and Kashmir Governor in Jammu on September 14.
Official sources here told UNI that the Cancer Institute is coming up at Super Specialty Hospital, which is already dealing with chronic diseases, adding, ''the Union Ministry of Health and Family Welfare has approved Rs 120 crore for this mega project out of which, Rs 43 crore has already been sanctioned.'' The sources further added that Mr Malik will lay foundation for the project here on September 14 at Convocation Centre vis-a-vis of one cancer hospital to be constructed at SKIMS Soura, Srinagar.
''The four-storey cancer institute complex with have multi facilities like linear accelerator, PET Scan, branch therapy, 4D CT simulator and pathology laboratory,'' they said and added that units like radiation oncology, medical oncology, surgical oncology, ICU, palliative care services, cancer therapy and awareness will also be established. ''The patients from Jammu, will now do not have to go outside the state for PET scan once the institute starts functioning,'' they added and said that the exercise of establishing both the institutes started in 2014 and finally got the nod in 2018 but the project delayed due to some incomplete technical and official documentation.
The project is to be completed under Non-Communicable Control of Stroke, Diabetes and Cancer Programme, they said and added the work will start shortly. Official sources further said that in Jammu per lakh population at present has 150 cancer patients and there are many cases, which go unnoticed and are not recorded in the hospital registers. ''Due to the use of tobacco products, throat cancers are rising among youth,'' they said and added, ''in Jammu region, every year nearly 2500 fresh cases of cancer are being reported.''
In men, the cancers of mouth, neck, throat, lungs, food pipe and stomach are common whereas in women, breast cancer cases are on the rise, said official sources and added, ''Jammu district has the highest number of cancer cases followed by Poonch, Rajouri, Kishtwar, Doda, Kathua and Samba.''
In the last seven years, around 30,000 cancer patients were admitted and treated in the different government hospitals across the state, they said.
However, as per report presented in J&K Assembly House in 2018, year-wise cases of cancer were 2011 (3057), 2012 (3288), 2013 (3157), 2014 (3940), 2015 (4275), 2016 (4976), 2017 (5731) and as per officials, in 2018 the figure was 7500. "With UT status to J&K, faculty from outside can also be invited and expert and specialised doctors can be appointed in the institute, which will be in the interest and welfare of the people with regard to health and medical scenario," they said.
Read Also: Alleged irregularities at Super Speciality Hospital: Committee to investigate