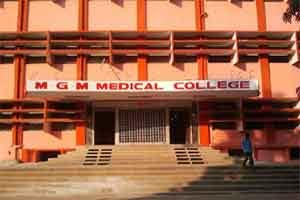 MCI inspection team is expected to visit the MGM Medical College and Hospital by the end of this week to decide on allocation of the number of MBBS seats in the college.
As a result of which, the MGM college management has cancelled the leaves of all the teachers, pending the inspection. However, there seems to be a small exception to the rule; a written application has to be submitted by a teacher if he/she requires a leave under emergency.
Dr. AN Mishra, principal of MGM Medical College has implied that the college faces a serious crunch on the number of teachers. However, he doesn't know the exact numbers. Also, a list of teachers has already been submitted to the state government. There are few teachers who have retired as recently as in January 16, he further implied.
To address the shortage of doctors, the state government is seeking appointment for professors on a contract basis. Appointment for the post of assistant professor, associate professor and professor was taken out and February 17 was the last date for submission of applications.
On the other hand, as per the MCI guidelines, the college needs to have an e-library and an e-classroom which is currently missing as a part of the college infrastructure. But the college management is still waiting for an addition of 50 more computers to be installed after having set  54 computers for the e-library in the first phase.
As reported by avenuemail, the number of students in MGM Medical College has been increased to 100 from the previous 50, but there is no proper facility to accommodate girls in hostels – an issued marked by MCI team during their last visit. They had asked for making proper facilities for the girl students. Though the college management has taken steps in this regard, the issue is not totally solved.
Also read: Jharkhand: Projects worth Rs 7.77 crores inaugurated at MGM medical college
During the MCI team's last visit it had noted that the college did not have a proper library. Since then, a new library has come up where 62 000 books can be kept. In addition, a new auditorium has also been constructed, which can accommodate 800 people. The library and auditorium were inaugurated this month by Chief Minister Raghubar Das.
0 comment(s) on Jamshedpur: MCI inspection team to visit MGM Medical College