Jharkhand : Stricter Implementation of Clincial Establishment Act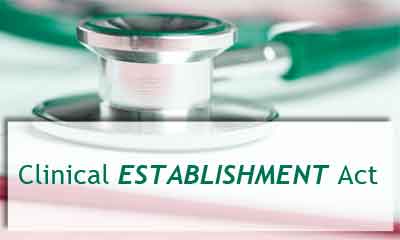 RANCHI: Private Hospitals in the state, not registered with the state under the
Clinical Establishment Act
are soon going to face the wrath of the State Government. To ensure better implementation of the act , the Ranchi Civil Surgeon recently sent notices to private hospitals and nursing homes across the state capital and districts, directing them to register themselves under the central Act by January 15.
"We have written to each private hospital, nursing home and clinics that are operational in the district. Those who do not adhere to the Act until the given time will be strongly dealt with," Dr S S Harijan, Ranchi Civil Surgeon informed TOI.
Clinical Establishment Act came into force in the 2010, with the regulations mandating the registration of each and every public/private owned and managed healthcare establishment as well as periodic reports on the services, facility and infrastructure provided in their premises. However, the full implementation is yet to come to effect, with many hospitals flouting regulations despite reminders from the health departments.
It is reported that the district of Ranchi itself has more than 450 private hospitals, nursing homes and clinics, but only 200 have reported under the Act.
"The hospitals have to show their income and services including number of beds, medical conditions it deals with and the infrastructure that is available to them," an official in the Ranchi civil surgeon's office said.
"The Clinical Establishment Act is being enforced statewide. Many hospitals have complied. The remaining will be brought under the net shortly," director of state health services Dr Pravin Chandra claimed. Hospitals are also being pulled up for flouting norms in relation to Bio medical waste, adds the daily.