JIPMER performs double hand transplant on a teenage boy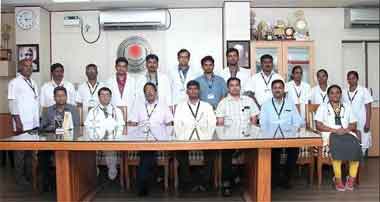 Puducherry: A team of the surgeons from the Jawaharlal institute of postgraduate medical education and research (JIPMER) has performed a 16 hour long double hand transplant on a teenage boy.
The boy had lost his both arms in an electric shock accident due to which the doctors had to detach both forearms and hands from the donor and reattaching them in a specific sequence to the amputated stump of the recipient.
The team led by chief reconstructive transplant surgeon S Dinesh Kumar. Speaking with TOI Dr Kumar said, "The boy lost parts of both his arms from the elbows in an accident. We had to transplant almost the entire forearms of the donor to him. The boy will take at least six months to one year to move the arms."
Complimenting the surgery team, S.C. Parija, Director, Jipmer, said the milestone procedure for the institution, which was granted a licence for reconstructive cadaveric transplants in August 2016, was performed free of cost.
The family of the boy and JIPMER director appreciated the family of a donor who came forward to donate the organs of their brain dead woman K Rathinambal (50).
The rehabilitation team provided a pair of prosthesis for the living cadaver donor and will be providing vital follow-up to the hand transplant recipient, reports HT