Job Alert: AIIMS Bhopal releases 100 vacancies for Senior Resident Post, Details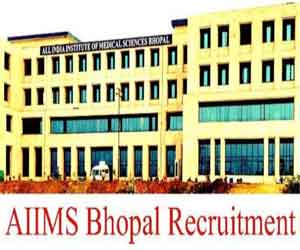 New Delhi: The All India Institute of Medical Sciences (AIIMS Bhopal) has released 100 job vacancies for Senior Resident (Non-Academic) Posts on Regular Basis.
All India Institute of India, Bhopal (AIIMS) has invited online applications for recruitment to the post of Senior Resident. Interested candidates can apply to the posts through the prescribed format on or before 10 July 2019.

Important Date:
1. Opening date for submission of online application: 25 May 2019.
2. Last date for submission of application: 10 July 2019.
All India Institute of Medical Sciences, Bhopal invites online application for the post of Senior Resident (Non - Academic) under Govt. of India, Residency Scheme, 1992. 
Details of Vacancies for the post of Senior Residents ( Provided separately) 
The vacancy position may be revised/changed, as per requirement hence candidates are advised to visit Institute website regularly. 
The Vacancies are in the Department of Anatomy, Microbiology, General Medicine, Dermatology, Psychiatry, Paediatrics, General Surgery, Orthopedics, Ophthalmology, Obstetrics & Gynecology, Radiodiagnosis, Anesthesiology, Community and Family Medicine, ENT, Physical Medicine & Rehabilitation, Endocrinology & Metabolism, Nuclear Medicine, Trauma & Emergency Medicine, Hospital Administration.
AIIMS, Bhopal Vacancy Details

:


Senior Resident – 100 Posts

For more details about Senior Residents (Non - Academic) Recruitment click on the given link:


The aspiring applicants satisfying the eligibility criteria in all respect can submit their application through ON-LINE mode only. The Online registration of application shall be made available on AIIMS, Bhopal official website i.e http://www.aiimabhopal.edu.in It is mandatory that the applicants shall send the duly filled and signed hardcopy of the submitted application form along with self-attested photocopies of their proof of date of birth, eligibility qualification mark sheets, degrees, paper publications, paper presentation, Project sanctioned letter and other relevant testimonials by speed post to the following address: 
All India Institute of Medical Sciences (AIIMS) 
Administrative Block, 1st Floor of Medical College Building, 
Saket Nagar, Bhopal – 462020 (M.P.) 
(The envelope containing the hard copy of application form must be superscribed as "Application for the post of Senior Resident in Department of…. ………………")

Eligibility Criteria for Senior Resident (Non-Academic) Post:
Educational Qualification: 
MD/MS/DNB in the respective field. Candidates can refer to the official notification for more details.
37 years (Age Relaxation for reserved category candidates as per govt. norms).
Rs. 15,600-39100+GP 6600+NPA (if applicable).
Application Process: 
1. Online applications are invited from the Indian Nationals for the aforementioned post at AIIMS Bhopal on substantive basis. 
2. The applications submitted online are made available to the concerned HOD as well as the office of Dean (Academic). 
3. This requirement is on a regular basis, hence Candidates can apply online at any point of time if eligible they may come for interview on the scheduled dates published on the Institute website.

4. Director AIIMS, Bhopal reserves the right to cancel the advertisement at any point of time without prior notice or fill up less number of posts as advertised depending upon the institutional requirement. 
5. Interested Indian citizen's are required to visit on the scheduled date with an application and one set of photocopy along with originals for verification. 
6. The original certificates i.e. MBBS Degree Certificate, Internship completion certificate, Qualifying degrees (MBBS/MD/MS/P.hd./M.Sc./Others) Medical Registration Certificate, Date of Birth Certificate, Caste Certificate, NOC etc., of the candidates who apply for the post will be verified at the time of interview.
Tenure: 
The appointments for the posts of Senior Residents shall be for a maximum period of 3 years as per the Residency Scheme 1992, Govt. of India.

Application Fees: (To be brought at the time of Interview).
1. Person with Bench-mark disabilities (PWBD): Nil 
2. For General/OBC/EWS category: Rs. 1500/- 
3. For SC/ST/category: Rs. 1200/- 
4. Fees to be paid by Demand Draft only in favour of "AIIMS Bhopal" 
5. Fee once remitted will not be refunded in any circumstance 
6. Candidates applying for multiple departments then separate Demand Drafts are required with separate applications. 
7. Inadequately filled/incomplete applications may be summarily rejected

Selection Procedure: 
1. Interviews will be held at AIIMS Bhopal. No TA/DA will be paid for appearing in the Interview. 
2. The joining of the candidates will be purely need-based. 
3. Any vacancy arising because of non- joining by selected candidates in this selection or by resignation of candidate who had joined after selection will be offered to the candidates from the waiting list according to their merit if any. 
4. All information pertaining to this advertisement including date of Interview, result, joining, etc. will be displayed only on the AIIMS Bhopal website which is www.aiimsbhopal.edu.in 
5. No individual intimation may be sent by AIIMS Bhopal to applicants. It will be the responsibility of applicants to keep abreast of the developments by visiting Institute website www.aiimsbhopal.edu.in regularly.

TERMS & CONDITIONS: 
1. Canvassing of any kind will lead to disqualification. 
2. The prescribed qualification is minimum and merely possessing the same does not entitle any candidate for selection. 
3. Leave: The appointees shall be granted leave in accordance with the instructions issued by the Government of India from time to time. 
4. Private practice of any type is prohibited, for the Senior Resident & Junior Resident, in case of selection. 
5. He / She may have to work in shifts and can be posted at any place in the Institute. 
6. He/ She is expected to conform to the rules of conduct and discipline as applicable to the Institute employees. 
7. The candidate should not have been convicted by any Court of Law. 
8. In case any information given or declaration by the candidate is found to be false or if the candidate has willfully suppressed any material information relevant to this appointment, he/she will be liable to be removed from the service and action taken as deemed fit by the appointing authority. 
9. The decision of the competent authority regarding selection of candidates will be final and no representation will be entertained in this regard. 
10. The Competent Authority reserves the right of any amendment, cancellation, and changes to this advertisement as a whole or in part without assigning any reason or giving notice. 
11. All disputes will be subject to jurisdictions of High Court, Jabalpur (M.P.)

For more details click on the original website given below.