Apply Now At RML Hospital Delhi For 186 SR Vacancies In Various Specialities, Details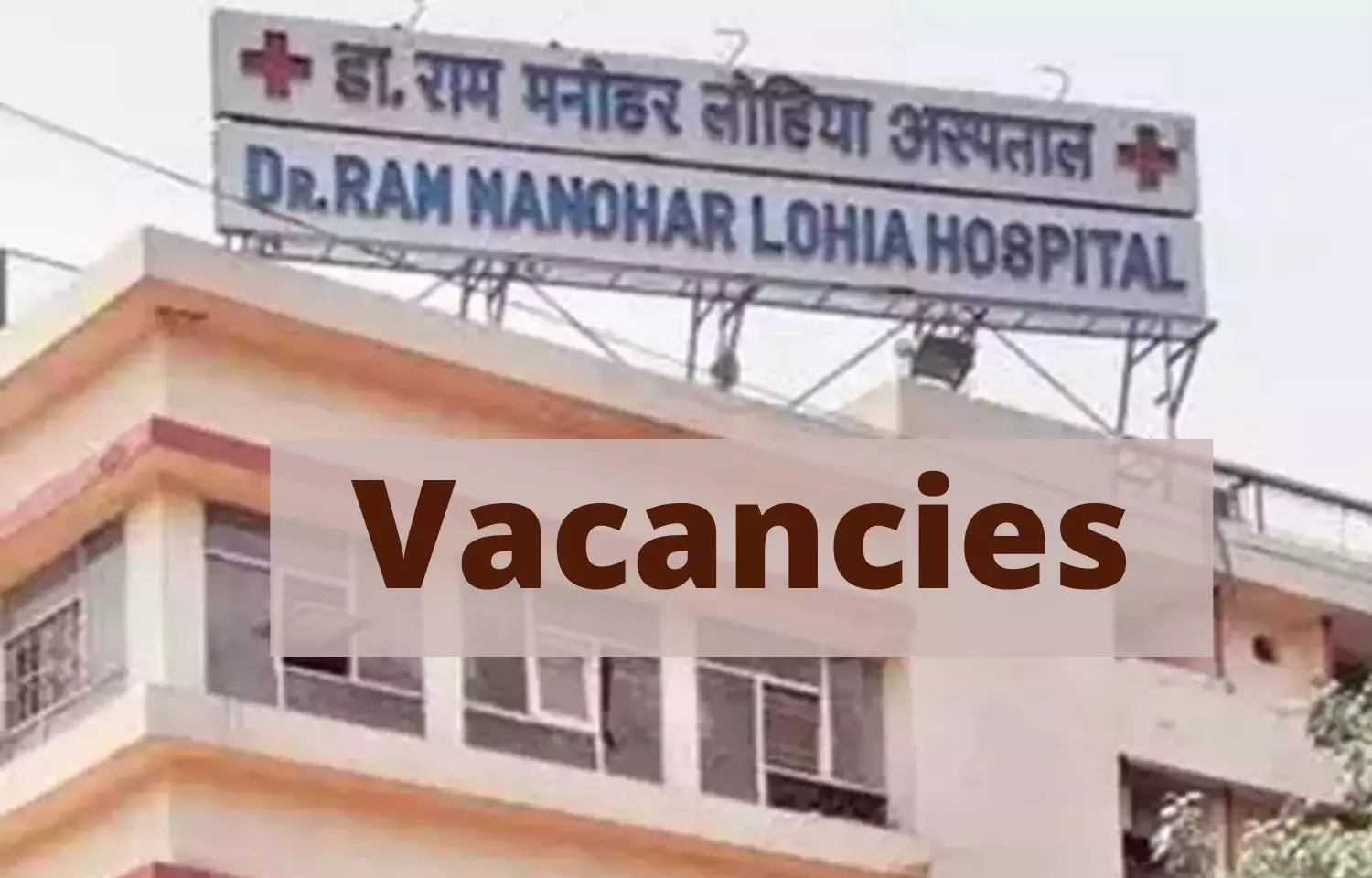 New Delhi: Dr Ram Manohar Lohia Hospital (RML Hospital Delhi), has released vacancies for the Senior Resident Post on a Regular Basis in the various specialties in this institute. The selection will be based on written examination and Interview.
Dr. Ram Manohar Lohia Hospital, formerly known as Willingdon Hospital, was established by the British for their staff and had only 54 beds. After independence, its control was shifted to New Delhi Municipal Committee. In 1954, its control was again transferred to the Central Government of Independent India.
Vacancy Details:
Total no of vacancies: 186
The Vacancies are in the department of - Anaesthesia, Biochemistry, Transfusion Medicine, Cardiac Anaesthesia, Dermatology, Endocrinology, ENT, Gastroenterology, Medicine, Microbiology, Neonatology, Obstetrics & Gynaecology, Ophthalmology, Orthopaedics, Paediatrics, Pathology, Psychiatry, Radiology, Surgery, PMR, and Forensic Medicine.
Last date of Application: 28th December 2021.
For more details about Qualification, Age, and Pay Allowance, and much more, click on the given link:
https://medicaljob.in/jobs.php?post_type=&job_tags=RML+Hospital+Jobs&location=&job_sector=all
What are the Terms & Conditions?
a. Application should be accompanied by a Demand Draft of Rs. 800/- for Un-reserved & OBC Candidates [non refundable], issued after the date of advertisement, drawn on a scheduled bank in India, in favor of Pay & Accounts Officer, Dr. R.M.L. Hospital, New Delhi payable at New Delhi. SC/ST/EWS candidates and Persons with Disability (PWD) candidates are exempted. It must be ensured by the candidates that application in prescribed form (Annexure-I) along with latest passport size photograph, self attested copies of all documents should be delivered/received, either through post or by hand, in the name of Medical Superintendent, at Central Diary & Dispatch Section, Near Gate No. 1, ABVIMS & Dr. Ram Manohar Lohia Hospital, New Delhi- 110001, latest by 28.12.2021 till 04:00 PM. Hospital will not be responsible for any Postal delay.
b. Incomplete application in any respect will not be considered. All previous applications received in this hospital will be treated as cancelled and only application in response to this Advertisement in the Prescribed form (Annexure-I) will be considered.
c. The list of rejected candidates, after screening of applications, will be displayed on the Hospital website (www.rmlh.nic.in).
d. Crucial date of determination of eligibility with regard to age and all aspects will be 28.12.2021.
e. The selection will be based on written examination and Interview. Schedule of written examination and interviews will be uploaded on hospital website with the list of eligible candidates.
f. OBC Candidates should submit the OBC Certificate as per Annexure-II with required validity as mentioned at para 5 (b) above.
g. The tenure of Senior Resident is for 03 (three) years including any service rendered earlier as Senior Resident on Ad-hoc/Regular basis in any Govt. institution. Under no circumstances, the total period of Senior Residency shall exceed three years, at the time of Joining ABVIMS & Dr. Ram Manohar Lohia Hospital. The appointment will be initially for the period of one year, which could be extended up to for a period of three years on annual basis, subject to the satisfactory work and conduct report.
h. Other service conditions will be applicable as per service condition prescribed from time to time by the Government of India.
i. The candidate who is already in Govt. Service should submit No Objection Certificate from the present employer.
j. Inter-hospital/Inter Institutional transfer shall not be permitted.
k. The candidates must submit the copy of following documents (self-attested) along with application form. They should bring the original certificates at the time of interview:
1. Certificate in support of age (10th class passing certificate).
2. Mark Sheets of MBBS/BDS (All years).
3. MBBS/BDS Attempt Certificate.
4. Internship completion certificate.
5. MBBS/BDS Degree.
6. PG Attempt Certificate.
7. P.G. Degree/Diploma/DNB/Provisional Pass Certificate from University.
8. Registration certificates for MBBS, PG/DNB/Diploma/MDS as prescribed in clause 2 b.
9. Caste/Community/Disability/EWS Certificate where applicable.
10. OBC Certificate only as per Annexure-II with required validity as mentioned at para 5 (b) above.
11. NOC from present employer (if employed).
12. Adhaar and PAN card
l. The candidates must submit the application in the prescribed form (Annexure-I) and paste recent passport size photograph on it. All the documents must be self-attested including his/her photograph on the application form.
m. The candidates are advised to ensure that they fulfill the eligibility criteria as mentioned in the advertisement.
n. The competent authority reserves the right to verify the authenticity of the Certificates submitted. If found incorrect, the candidature will be cancelled without any further notice
o. Jurisdiction of Dispute: In case of any legal dispute the jurisdiction of court will be Delhi/New Delhi only.
p. Cut-off for Interviews will be 50 % for UR/EWS, 45 % for OBC, 40 % for SC/ST and additional 5 % relaxation will be given to PWD candidates in their respective category.
q. Appointment to selected/waitlisted candidates will only be given after verification of original documents.
r. The competent authority reserves the right of any amendment, cancellation and changes to this advertisement as a whole or in part without assigning any reason, thereof.
s. No TA/DA will be paid for this purpose.
7. The candidates are advised to see the Hospital web-site (www.rmlh.nic.in) frequently for any amendment, corrigendum, list of rejected applications, list of accepted applications, date of written examination, interview, name of selected candidates and offer of appointments.
Note: It is informed that Dr. RML Hospital will not make individual communication to any candidate. Any update will be uploaded on Dr. RML Hospital official Website only.
Also Read:APPLY NOW At AIIMS Deoghar for 25 Vacancies For Junior Resident Post, Details