Apply Now: VMMC, Safdarjung Hospital Delhi Release 529 Vacancies For Senior Resident Post in 36 departments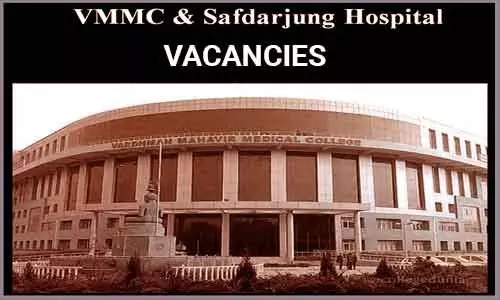 New Delhi: The Safdarjung Hospital and Vardhman Mahavir Medical College (SJH & VMMC), New Delhi has released 529 vacancies for the Senior Resident post on a Regular Basis in various departments. The selection will be based on the written examination and interview.
Safdarjung Hospital was founded in 1942 during the Second World War as a Base Hospital for the allied forces. It was taken over by the Govt. of India in 1954 under the Ministry of Health. It has grown over the years into one of the largest, tertiary, level multi-disciplinary healthcare institutions in this part of the World. Based on the needs and developments in Medical Care, the hospital has been regularly upgrading its facilities from diagnostic and therapeutic aspects in all the specialties.
Vacancy Details:
Total no of Vacancies: 529
The Vacancies are in the Department - Anaesthesia, Anatomy, Bio-Chemistry, Cancer Surgery, Cardiology, Community Medicine, CTVS, Dermatology, Endocrinology, ENT, Forensic Medicine, Hematology, Lab Oncology, Medicine, Microbiology, Nephrology, Neuro Surgery, Neurology, Nuclear Medicine, Obstetrics and Gynaecology, Ophthalmology, Orthopedics, Pediatrics, Paediatrics Surgery, Pathology, Pharmacology, physiology, PMR, Psychiatry, Radiology, Radiotherapy, Renal Transplant, Respiratory Medicine, Surgery, and Urology.
Application Procedure:
Applicants should submit their application in the prescribed format as per Annexure-I along with the attested copies of all the relevant documents in support of their candidature for the post. One passport size photograph should also be appended. The application addressed to the Medical Superintendent, VMM College & Safdarjung Hospital, New Delhi-110029 should be submitted in the DIARY & DISPATCH SECTION of this institution (near Gate no. 2 and adjacent to Bank of Baroda, Safdarjung Hospital Branch). The application sent by post must written on the top of the envelope "Application for the post of Senior Resident in the department of ____________."