Walk-in-Interview: AIIMS Raipur releases 50 vacancies for Junior Resident Post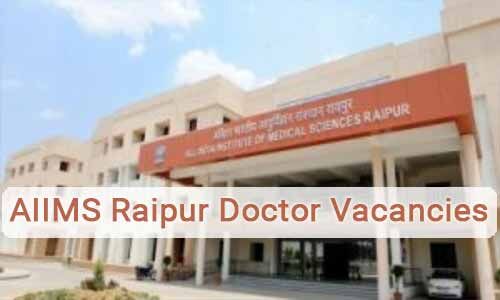 Raipur: The All India Institute of Medical Sciences, (AIIMS) has released 50 vacancies for the Junior Resident post on Contractual Basis. The selection will be done on the basis of Walk-in-Interview.
AIIMS Raipur is an apex health care institute, established by the Ministry of Health & Family Welfare, Government of India under the Pradhan Mantri Swasthya Suraksha Yojna (PMSSY).
Vacancy Details:
Total no of Vacancies- 50
Date of Walk-in-Interview: 31st January 2020.
Reporting Time: 09:00 AM to 9:30 AM
Venue: Committee Room, 1st Floor, Medical College Building, Gate No. 5, AIIMS Raipur, Tatibandh, G.E. Road, Raipur (C.G.) -492099
For more details about Junior Resident Qualification, Age, and Pay Allowances Recruitment click on the given link:
https://medicaljob.in/jobs.php?post_type=&job_tags=aiims+raipur+vacancy&location=&job_sector=all
What are the Terms & Conditions?
1. The candidate who is already in government service shall submit 'No Objection Certificate' from the present employer at the time of Interview.
2. Canvassing of any kind will lead to disqualification. The prescribed qualification is minimum and mere possessing the same does not entitle any candidate for selection.
3. The appointment is purely on contract basis (under residency scheme, GoI)for a period of 11 months or till such time the regular appointments against these vacant posts are made, whichever is earlier, with effect from the date of joining. If the contract is not extended further, the same will lapse automatically. The appointment can also be terminated at any time, on either side, by giving one month's notice or by paying one month's salary, without assigning any reason or failure to complete the period of three months to the satisfaction of the competent authority. The appointee shall be on the whole time appointment of the AIIMS and shall not accept any other assignment, paid or otherwise and shall not engage himself/herself in private practice of any kind during the period of contract. He/She is expected to conform to the rules of conduct and discipline as applicable to the institute employees. The appointee shall perform the duties assigned to him/her. The competent authority reserves the right to assign any duty as and when required. No extra/additional allowances will be admissible in case of such an assignment.
4. If an appointee wishes to apply somewhere else or resign within the first 03 (three) months of joining, then neither he/she will be issued a No Objection Certificate (NOC) nor he/she will receive any Relieving Letter or Experience Certificate.
5. The appointee shall not be entitled to any benefit like Provident Fund, Pension, Gratuity, Medical Attendance Treatment, Seniority, Promotion, etc. or any other benefits available to the Government Servants, appointed on regular basis.
6. The candidate should not have been convicted by any Court of Law.
7. In case of any information given or declaration by the candidate is found to be false or if the candidate has willfully suppressed any material information relevant to this appointment, he/she will be liable to be removed from the service and any action taken as deemed fit by the appointing authority.
8. The decision of the competent authority regarding selection of candidates will be final and no representation will be entertained in this regard.
9. Incomplete applications in any aspect will be summarily rejected.
10. The Competent Authority reserves the right of any amendment, cancellation, and changes to this advertisement as a whole or in part without assigning any reason or giving notice.
11. Leave entitlement of the appointee shall be governed as per Govt. of India's Residency Scheme.
12. The appointee shall not be entitled to avail any allowances/facilities being extended to the regular/permanent faculty members of the aims.
13. All disputes will be subject to jurisdictions of Court of Law at Raipur.
Read Also: AIIMS Raipur Releases 31 Vacancies For Senior Resident Post In 12 Specialties