Walk In Interview At AIIMS Kalyani for SR Vacancies, Details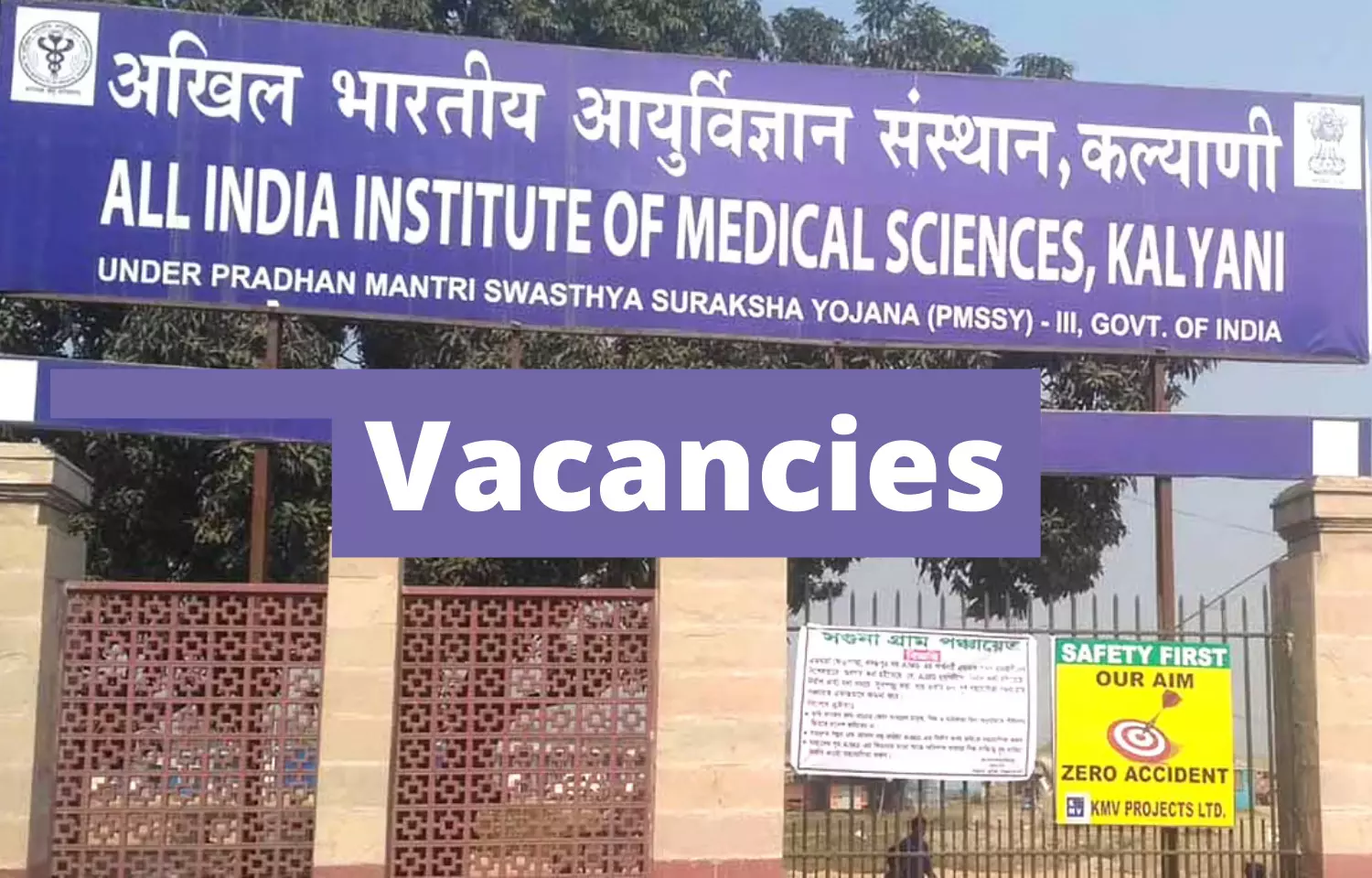 Kalyani: The All India Institute of Medical Sciences Kalyani (AIIMS Kalyani) has released Vacancies for the Senior Residents (Non academic) post on a tenure basis in various Pre Para Clinical Departments. The selection will be based on the walk in interview.
All India Institute of Medical Sciences, Kalyani under Ministry of Health and Family Welfare, Govt. of India, has been established as an Institute of National Importance and is one of the new upcoming AIIMS and apex healthcare Institute being established by the Ministry of Health & Family Welfare, Government of India under the Pradhan Mantri Swasthya Suraksha Yojana (PMSSY) with the aim of correcting the regional imbalance in quality tertiary level healthcare in the country, and attaining self-sufficiency in graduate, postgraduate and higher medical education and training.
AIIMS Kalyani Vacancy Details:
Total No of Vacancies: 45
The Vacancies are in the Department of - Anaesthesiology, Anatomy, Biochemistry, Dermatology, ENT, General Medicine, General Surgery, Microbiology, Obstetrics & Gynecology, Ophthalmology, Orthopaedics, Paediatrics, Pathology, Pharmacology, Psychiatry, Radiology, and Radiotherapy.
Date for Walk-In-Interview - 6th, 7th, 8th, and 9th December 2021.
Venue: Administrative Building, 1st, Floor, Committee Room of AIIMS, Kalyani, Pin - 741245.
For more details about Qualification, Age, and Pay Allowance, and much more, click on the given link:
https://medicaljob.in/jobs.php?post_type=&job_tags=aiims+kalyani+vacancies&location=&job_sector=all
What are the Terms & Conditions?
1. All the posts carry usual allowances as admissible to Central Government Employees of similar status at Kalyani (West Bengal).
2. The aspiring applicants satisfying the eligibility criteria in all respects can bring their application on the day of interview in prescribed format attached herewith along with self-attested copies of certificates/documents in support of fulfilling the essential criteria of age, educational qualification, teaching/research experiences etc.
3. The applicants applying in response to this advertisement should satisfy themselves regarding their eligibility for the post applied for. They must be fulfilling eligibility criteria up to the date of publishing this notification in Institute website failing which their application will be rejected.
4. In case a candidate wishes to apply for more than one post, he/she is required to fill in the attached form separately and separate application fees as applicable are to be paid.
5. Candidates applying under any of the reserved category posts, viz. SC/ST/OBC/OH will be considered subject to Caste/OH Certificate issued by the appropriate/ Competent Authority on the prescribed format. Community should be clearly and legibly mentioned in the Certificate.
6. OBC candidate's eligibility will be based on the caste(s) borne in the Central List of Government of India. OBC candidate(s) should not belongs to Creamy Layer and their sub-caste should be match with the entries in Central List of OBC, failing which their candidatures will not be considered under any of the applied reserved category post(s).
7. Only such persons would be eligible for reservation under OH quota in service/posts who suffer from not less than 40% of physical disability. Person who wants to avail the benefit of reservation would have to submit a Disability Certificate as issued by a Competent Authority in prescribed format.
8. The candidates are to satisfy all eligibility criteria. They must possess the educational qualification and experiences as recognized by the Govt. of India. Their candidature will be cancelled at any stage if it is found that their educational qualification or experiences is not recognized by the Govt. of India.
9. The post of Senior Resident will be regulated as per the provision of Central Residency Scheme and governed by CCS (Temporary Service) Rules.
10. Mode of Selection:- Based on the reporting, the Interview will be conducted after verifying the application and requisite documents of the candidates. The selection of the candidates will be based on the performance in the walk-in-interview only.
11. Selection Procedure:- i) The candidate can apply for more than one post out of enlisted Departments.
ii) The merit list (selected and waiting list) for all categories i.e UR/OBC/SC/ST shall be prepared on the basis of personal interview.
iii) Any vacancy arises because of non-joining by selected candidates in this selection or by resignation of candidates; post will be offered to the candidates from waiting list according to the merit. All applicants must provide phone numbers and e-mail for faster communication.
iv) Qualification/Experience/Age/etc. will be counted up to the date of publishing this notification in institute website
v) The final result will be displayed on the website i.e. www. aiimskalyani.edu.in.
12. APPLICATION FEES: Rs. 1,000/- (Rupees One Thousand Only).
1) For Unreserved/OBC candidates is Rs.1000/-. The candidates have to pay the prescribed application fee through Demand Draft in favour of "AIIMS Kalyani Internal Resources Account" payable at Kalyani.
2) Application fee once remitted shall not be refunded under any circumstances.
3) No fee for SC/ST/PWD/Women Candidates of any community.
4) Applications without the prescribed fee will not be considered and summarily rejected.
13. The applicants already in service shall have to produce No Objection Certificate from their present employer at the time of Interview. However, they have to take prior permission from their employer while applying for the post.
14. AIIMS, Kalyani decision is final:
The decision of the Competent Authority of AIIMS, Kalyani in all matters relating to eligibility, acceptance or rejection of the applications, penalty for false information, mode of selection, selection, and allotment of posts to selected candidates will be final and binding on the candidates and no enquiry/correspondence will be entertained in this regard.
15. Any corrigendum or revision of the advertisement or any other information regarding this recruitment will be posted on the official website of AIIMS, Kalyani only in due course. Candidates are advised to visit the website regularly for updated information in this regard.
16. Candidates who may join within one month from the date of issue of Offer of engagement may apply for the post of Senior Resident (Non-Academic) of AIIMS Kalyani.
Also Read:Apply now At AIIMS Bhubaneswar: Vacancies released For Junior Medical Officer Post, Details