Walk-In-Interview: ESIC Hospital Mumbai Releases 79 Vacancies For SR, Specialist Posts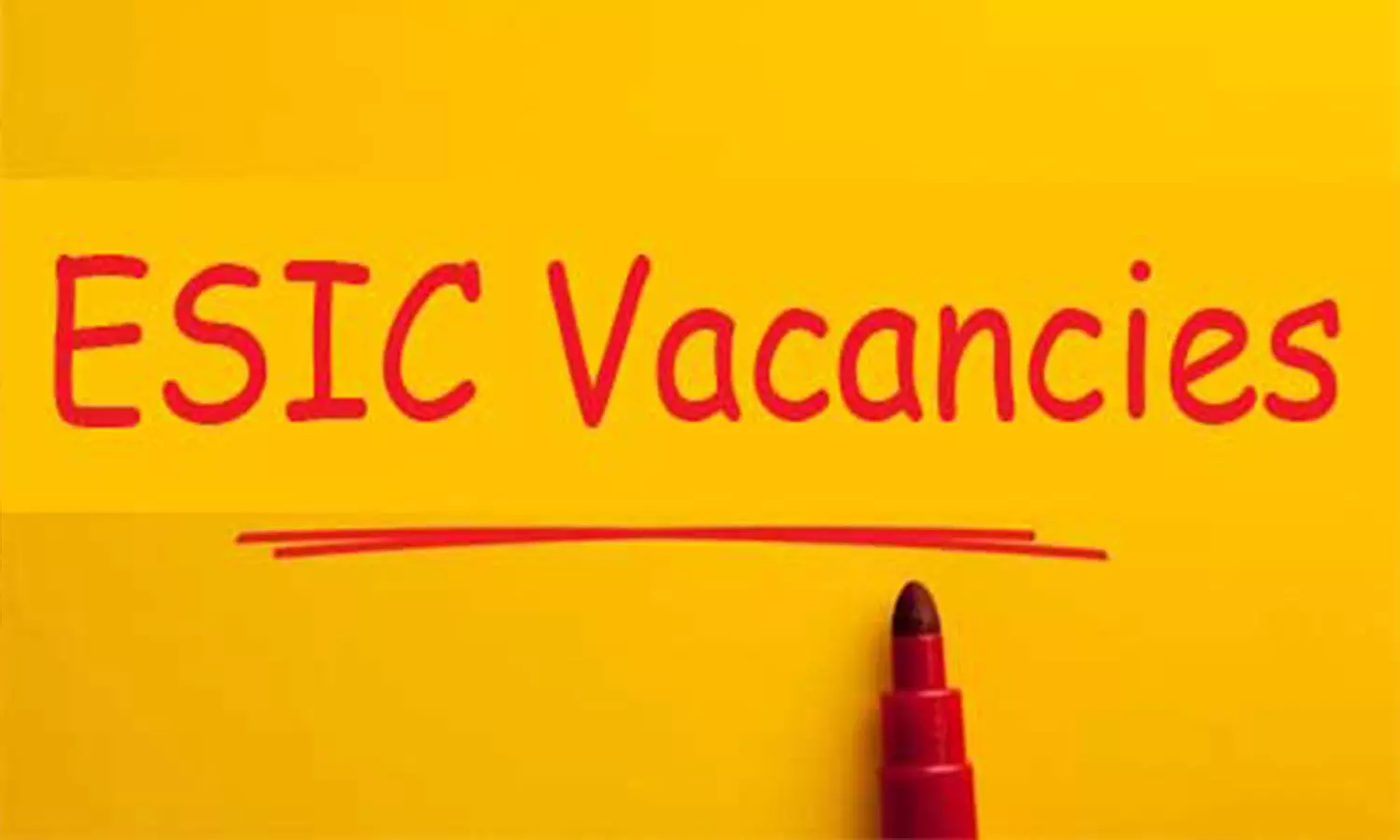 Mumbai- The Employees State Insurance Corporation Hospital (ESIC Mumbai) has released 79 Vacancies for Senior Resident, Full-Time Specialist, and Part-Time Specialist posts on Contractual Basis. The Selection will be done based on Walk-in-interview.

ESIC is a statutory body constituted under an Act of Parliament (ESI Act, 1948) and works under the administrative control of the Ministry of Labour and Employment, Government of India.
Vacancy Details:
Total No of Vacancies: 79
Senior Resident - 10
The vacancies are in the Department of- Medicine & ICU, Casualty, Radiology), Orthopaedics, Paediatric Surgery, Plastic Surgery, Paediatrics & NICU, Pathology, and Pulmonary Medicine.
Senior Resident Against GDMOs - 67
The vacancies are in the Department of - Anesthesiology, Medicine & ICU, Casualty, Radiology, OBS & Gyn, Orthopedics, ENT, Pediatrics, Ophthalmology, Pathology, Microbiology, Biochemistry, Pul. Medicine, Surgery, and Dermatology.
Full-Time Specialist - 01
The vacancies are in the Department of - Pulmonary Medicine.
Part-Time Specialist - 01
The vacancies are in the Department of - Radiology.
Date of Walk-in-Interview: 24th and 25th September 2020
The venue of Interview - 4th Floor, Employee State Insurance Corporation, Sub Regional Office, Marol, Panchdeep Bhavan, Plot No.9, Rood No.-7, MIDC Marol, Maheshwari Nagar, Andheri(East), Mumbai-400093.
For more details about Qualification, Age, and Pay Allowance and much more, click on the given link:
https://medicaljob.in/jobs.php?post_type=&job_tags=ESIC+vacancies&location=&job_sector=all
Note:

1) Reservation for PWD/Other reserved categories will be executed as per Central Government Rule.
2) Age relaxation for OBC / SC / ST / PWD / Ex-Servicemen will be as per rule.
3) Fee for General, EWS & OBC is Rs.300/- for SC & ST is Rs.125/- (Non-refundable) (DD in favor of ESI Fund A/C No.1) & No fees for Women & PWD.
4) Candidates seeking reservation/Age relaxation benefits under SC/ST/OBC /PWD category must ensure that they are entitled to such reservation as per eligibility prescribed in the Notice and as per the instructions issued by Govt. of India. They should also be in possession of the certificates in the prescribed format of Govt. of India in support of their claim. Candidates claiming reservation/ age relaxation under OBC Category should submit the latest OBC Certificate given at Annexure -" B" prescribed vide Govt. of India, Department of Personnel and Training OM No. 36012/22/93-Estt. (SCT) dated 15.11.93 along with Self Declaration given at Annexure "C" failing which the benefit of reservation or age relaxation will not be given.
5) ESI Corporation may increase or decrease or cancel filling up of any or all the post without assigning any reasons at the discretion of the Appointing Authority.
6) The recruitments are purely on a contractual basis and selected candidates will have no claim for regularization of the service in the hospital.
7) The selection is subject to the candidates proving their medical fitness and verification of their Character and Antecedents.
8) The Competent Authority reserves the right to fill up all or not to fill up any post.
9) In case a regular incumbent joins in, the appointment shall be terminated immediately. The discretion will be sole of Medical Superintendent.
10) No TA/DA will be paid to candidates for appearing in the walk-in-interview.
11) The application should be submitted for each post separately along with the requisite fee.
12) The Medical Superintendent reserves the right to alter the date or cancel the interview.
13) No claim for any service benefits like PF, Pension, Gratuity, Medical Allowance, Seniority, Promotion, and leave will be admissible.
14) Selected candidates will have to sign the Agreement of Terms & Conditions on Rs. 100/- Stamp paper to be purchased by the candidate prior to joining.
15) Private practice will not be allowed for Senior Resident & Full Time Specialist.
16) Interested candidates may appear for the Walk-in-interview as per the given Schedule along with their original Documents & Xerox copies in support of their Date Of Birth, Proof of Educational Qualification, Experience Certificates, Caste Certificates as per Govt. Of India formats, Non-Creamy Layer Certificates as per Govt. of India format valid for the current year/ latest in case of OBC (Format Enclosed), Economically weaker Sections Certificates as per Govt. of India format valid for the current year. They are advised to appear for an interview with duly filled "Annexure-A" which is available on the website.
17) In case of selection, candidates need to join duty within 07 days from the date of the offer of appointment.
18) No Accommodation facility is provided by ESIC for contractual engagements.
19) The decision of the selection board will be final on all aspects of selection and no further correspondence will be entertained under any circumstance.
20) The Service rendered by the SR's in the Corporation shall be considered as bonded service in Maharashtra State as per Maharashtra State Govt. decision No. MED/1013/Admn No.101/13/Edu-2 dated 31.01.2014.
21) The cutoff date with respect to qualification for all posts is 25.09.2020.
For Candidates: - Documents Required
i) Matriculation Certificate for Age Proof.
ii) Proof of Educational Qualification.
iii) MMC/MCI Registration Certificates.
iv) Internship Completion Certificate.
v) Latest Caste Certificate/Non Creamy layer Certificate/ EWS certificate.
vi) Experience Certificates, NOC letter, Reliving letter from the employer if already employed.
vii) Fee for General, EWS & OBC is Rs.300/- for SC & ST is Rs.125/-(Nonrefundable) (DD in favour of ESI Fund A/C No.01) & No fees for Women & PWD.
viii) Two Photographs (PP Size)
ix) Duly filled Biodata form as per "Annexure-A" (To be filled by the Candidate only Capital letter)
22) Due to fire mishap, the Model Hospital Andheri is working from ESI Hospital Kandivali premises till the Reopening of ESIC Model Hospital Andheri, Mumbai.
Also Read:APPLY NOW: UPPSC Releases 316 Vacancies For Assistant Professor, Allopath Medical Officer Posts