Karnataka: First skin donation bank opens in Victoria Hospital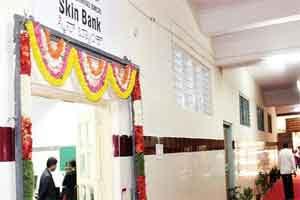 Karnataka: Victoria Hospital is the new destination for skin donors, with a skin donation bank, or a skin harvesting clinic recently opened at its premise. Called the Rotary Ashirvad BMCRI Skin Bank (RABSB), it is the state's first skin bank.
This new centre is likely to cater to about 180 patients every month, while expected to raise awareness about skin donation and also expected to attract clinical fortune to organ donation, at large.
The new skin bank is also reported to be set up in association with the Bangalore Medical College and Research Institute (BMCRI), and is supported by the Dr Devadass PK, Dean of BMCRI. It is funded by Ashirvad Pipes. It was recently inaugurated by the Medical Education Minister Dr Sharan Prakash Patil.  is the dream of the BMCRI Department of Plastic Surgery, and Rotary Bangalore Midtown.
Only recently,
Asian Citicare Super-Speciality Hospital
in Aurangabad recently became the first hospital in the city to launch a burn intensive care unit. It aims to provide dedicated service to patients suffering with severe burns.
Ujwala Dahiphale, plastic surgeon was quoted as saying that "People have a lot of misconceptions regarding skin donation. They think that the body is disfigured and spoilt after the donation, but it is not true. Only the outermost layer of skin from the thighs and the back is removed from the donor.
Procedure for skin donation
There are reported to be many inhibitions among the people for organ donation in general, such as a dead body being sacred, or superstitious reason. However, when it comes to skin donation, the donor can also be a living person, or donation can be pledged by a person after his death. The family of a person can donate his skin within a span of 6 hours of his/her death.
In addition, the skin can be harvested from anywhere, either at the hospital, home, or the morgue. There harvesting is clinically done from hidden areas such the two legs, two thighs, or the back.
One important misconception about the procedure, to be interpreted correctly is that there is no bleeding, or deformity to the body, as a result of skin harvesting. It is absolutely a safe medical procedure.
The total process is executed within 45 minutes. The biological age of the donor has to be more than 18 years, with no skin disease, cancer, or infections like HIV.
Technically, the harvested skin is processed and stored according to an international protocol in the skin bank. It can be boon for treatment of burn victims, or best biological dressing for burn injuries. It is expected to relieve the victims of pain, reduce infection, and is a survival remedy for victims suffering from more than 40% burns.
Role of BMCRI
As reported by
Express
, The skin required for the burn victims within BMCRI will be issued through an indenting process. However, patients being treated other hospitals can also use it with a request letter from a qualified plastic surgeon.
A steering committee has been formed with representatives from Rotary Bangalore MidTown, BMCRI, and Ashirvad Pipes, to govern the skin bank.
A team with Anil Lala, Director, Community Services, Dr Gunasekar Vuppalapati, plastic surgeon,  Dr Ramesh K T, Dean of the Department of Plastic Surgery, and Dr Smitha Segu will work for the smooth functioning of the bank. The National Burns Centre, headed by Dr Sunil Keswani, provided the technical training.
Here are a few pictures from the event