Kauvery Hospital inaugurated Multi Specialty Hospital in Salem, TamilNadu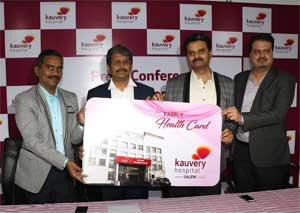 TamilNadu: The New Age Family hospital of Kauvery group launched their multispecialty hospital in Salem. The Kauvery hospital group known for their quality healthcare is a tertiary care corporate hospital chain founded by Dr S. Chandrakumar and Dr S. Manivannan with their units in multiple locations.
The Cauvery hospital Salem (KHS) a multi-speciality hospital has state of the art infrastructure with 150 beds and all facilities to function as a tertiary care hospital. The hospital houses a cardiac catheterization laboratory which is one of the advanced models (GE IGS 520) of its kind and strengthens the interventional management of Cardiac emergencies.
Salem is the sixth highly populated city in Tamilnadu with people migrating from the surrounding suburbs for education and employment. Dr. S Chandrakumar, Managing Director of Kauvery Hospital says "Generally people from locations like Namakkal, Karur, Erode and surrounding districts travel to Coimbatore or other larger cities for treatment. KHS expand patients can have easier access to quality healthcare services within their reach.
The Kauvery hospital group has already established their units in major places like Chennai, Trichy, Karaikudi, Hosur and their new unit in Salem will be on par with the other said units. The hospital will provide its patients with all key specialty services including Cardiology, Neurology, Nephrology, Gastroenterology, Trauma and Critical Care & all other specialties at an affordable cost. The Launch of KHS will be an important milestone in the healthcare in Tamilnadu.
The key focus of Kauvery hospital will be on patient safety, patient care, service and use of information technology for better clinical outcome. Special focus will be on quality & Clinical Governance of the healthcare delivery says Dr. S. Manivannan, Joint Managing Director.