Kejriwal pulls up health, PWD officials over shortcomings in Kondli mohalla clinic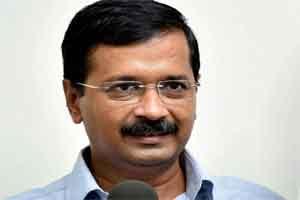 New Delhi- Delhi Chief Minister Arvind Kejriwal today pulled up senior officials of the health department and the PWD after he found "shortcomings" at a mohalla clinic in Kondli area.
After a surprise visit to the clinic, Kejriwal, in a meeting, directed officials to install CCTV cameras in the clinic to monitor the upkeep of the centre and its proper functioning.
During the visit, he was accompanied by Delhi Health Minister Satyendar Jain, senior officers of health and the public works departments.
According to a government statement, the chief minister also checked the medicine availability registers and pulled up health department officials over non-availability of some medicines at the clinic.
"The health department was also pulled up over tests not being done at the centre. Kejriwal also pulled up the public works department (PWD) officials over the non-functioning of the air condition and problem in the main door of the clinic," it stated.
During the meeting with officials concerned, the chief minister directed the health secretary to take immediate measures to ensure availability of all medicines and tests at the centre with immediate effect.
"The PWD has been directed to install air conditioning system and repair the main door of the centre immediately, to which the department said that they would execute it immediately," the statement said.
Kejriwal, Jain and officials of the department and the PWD will meet doctors of all mohalla clinics next week and discuss the status of the facilities and whether they were facing any problem, it said.