Kerala HC Applauds Health Workers for Controlling Nipah Virus Outbreak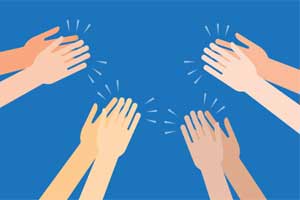 Kozhikode: The Kerala high court praised all those health workers attached to the state health department, who contributed to control the Nipah virus outbreak in the state. The court also lauded the central government for providing the needed assistance in the crucial issue.
The government took note of the noble efforts of the health workers during a recent hearing on a case, where two naturopathy practitioners urged people not to take the precautionary measures issued by the government on Nipah virus seriously.
As per a recent report in Livelaw, Chief Justice Roy orally observed that they had gone beyond the realms of their duties to render selfless service, unmindful of health risks.
The Chief Justice also made a special mention about Dr R S Gopakumar, who performed the last rites of a victim of Nipah Virus, undaunted by fears of infection.
Read Also: Going Beyond Duty: Kerala Doctor Performs Last Rites Of Nipah Affected Patients, after relatives refuse
Meanwhile, Kerala Health Minister KK Shailaja informed the media that the Nipah scare is under control and there were fewer chances of any new cases.
"No new case of Nipah has been registered in the last two to three days, so we can say that the spread of the virus is under control now. But we have to wait until July 30 as the last case occurred on May 31 and we have to take 42 days as incubation period, but this is just a safety method. I think no more cases will occur," she told ANI.
While praising all those who worked to control the deadly virus, the minister said, "It is a combined work of everybody irrespective of whether someone belonged to the opposition or the ruling party. Each and everyone united to control the spread of the virus. I am proud of my department, doctors, nurses, Asha workers and my health secretary, they worked like a machine."
To control the virus outbreak, the health ministry had issued an advisory with preventive measures for the public to follow to stay unaffected by the virus.
Read Also: Health Ministry Issues Advisory on NIPAH Virus, Check out Details
Nipah virus has claimed as many as 17 lives– 14 in Kozhikode and 3 in neighbouring Malappuram since its outbreak last month, including one nurse, who died while attending a patient who was infected by the virus.
Read Also: Nipah Virus would have gone unnoticed, if it werent for these Three Doctors