Kolkata: Doctor jumps to death in drunken state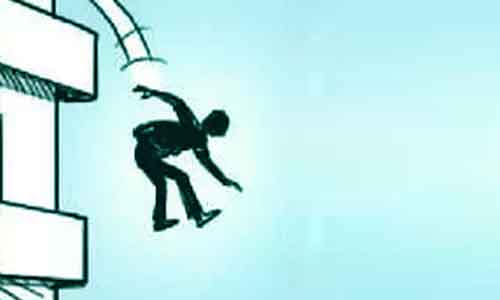 Kolkata: A Kolkata based doctor recently jumped to death; allegedly in an inebriated state; from an AC vent of his 12th-floor flat. The police have registered a case of unnatural death and initiated a probe into the incident.
The deceased medico is identified to be a 28-year-old doctor working at 2 nursing homes in the city and married to another doctor. According to the police, he was heavily drunk at the time and damaged his own apartment before jumping from the flat.
TOI reports that the unfortunate incident took place on Jaunary 9th 2020 evening when the doctor and his wife came home from shopping and with a bottle of liquor purchased by him. After reaching home, the doctor began drinking and talking to his friends over phone, simultaneously.
Narrating the incident to the police, the medico's wife informed that after drinking for a while, the deceased doctor had allegedly become excited and began drinking straight from the bottle. When she intervened and tried to stop him from drinking more alcohol, the doctor got angry, pushed her wife out of the apartment and shut the door, she stated.
He then began ransacking the apartment and started damaging the furniture inside. After seeking help from neighbours, the wife then ran down and sought help from the security guards. However, when the neighbours and security men tried to calm him down, he threw furniture and glass utensils at them.
Read Also: Gujarat Doctor SHOT by husband of deceased patient who died during C section
Speaking to
TOI
, a police officer said, "Our officers tried to open the door from outside but they could not because Dharmendra had jammed it with a wardrobe from inside," said an officer. Later, cops called the fire department and started making plans to enter the flat when the 28-year-old began throwing books, clothes and glass bottles.
In the meantime, the doctor managed to jump down from 12th floor through a 2.25ft x 1.4ft opening in the wall, which was created to install an air-conditioner and fell head-first on the ground. He was rushed to Bidhannagar Sub Divisional Hospital by police and local people, but was declared brought dead. Police have filed an unnatural death case and initiated a probe, reports
TNIE