Lalu alleges conspiracy after AIIMS discharges him, recommends shift to Ranchi medical college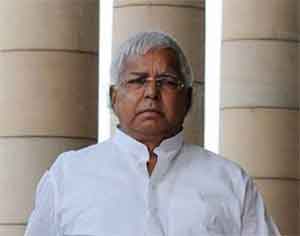 New Delhi: Alleging conspiracy in his discharge by the All India Institute for medical sciences and recommendation of his shift to Ranchi medical college, Rashtriya Janata Dal chief and former Bihar Chief Minister Lalu Prasad on Monday said he should not be shifted to Ranchi Medical College from AIIMS as he is still not well. In a statement, the AIIMS said,''Mr Lalu Prasad was referred from Ranchi Medical College to AIIMS for management of his acute medical condition.
He has improved significantly and as per advice of the medical board constituted for his treatment, he is being referred back to Ranchi Medical College for management of his chronic issues.He is currently stable and is fit to travel.''However, the RJD Chief alleged that there was a conspiracy in his discharge and being shifted to Ranchi medical college.
In as letter to AIIMS director, Mr Prasad said AIIMS should not taken any decision under ''political pressure''.
Calling the move unjust, the RJD supremo said it was a "conspiracy" and he was being shifted to a place where there were no facilities.
''I have been informed that process has been started for, y discharge from the AIIMS . I was shifted from the Ranchi medical college to AIIMS for a better treatment. I would like to state that i am still not well. I want to inform you that I am suffering from heart trouble, kidney infections, sugar and many other diseases . I have pain in my body and on many occasions I have fallen in the bathroom. I am undergoing treatment for these ailments here.
I want to inform you that Ranchi Medical college hospital does not have requisite arrangements to treat kidney ailment,'' he said.
Alleging that the decision to discharge him from AIIMS and shift him to Ranchi medical college had been taken under 'political pressure', Mr Prasad said,''I do not know under whose political pressure sudden decision of discharging me has been taken. Doctors are symbols of god. They should not take decision under pressure of any individual or political party Their primary duty is complete improvement in patient's health. ''He said that till his health completely improves he should be treated in AIIMS. ''
I want to inform you that If I am sent to Ranchi Medical college from AIIMS the responsibility for any risk to my life will be on all of you,'' the RJD chief said in his letter.
The RJD chief is undergoing treatment at AIIMS for various ailments related to heart and kidney.
Meanwhile, RJD supporters created ruckus at AIIMS and vandalised property at the hospital following which security has been tightened at AIIMS.
Reacting to the issue, RJD leader Tejashwi Yadav said the decision to shift the RJD chief was taken in haste and the AIIMS authorities can tell the reason for referring him back to Ranchi Medical College.
Earlier in the day, Congress President Rahul Gandhi met Rashtriya Janata Dal chief Lalu Prasad at the All India Institute of Medical Sciences to enquire about his health, AICC officials said.
The officials said the Congress President met Mr Prasad at AIIMS this morning and enquired about his deteriorating health condition.
Lalu, who has been convicted in several fodder scam cases and was currently serving jail term in Ranchi, Jharkhand, was shifted to AIIMS for medical treatment.
He is undergoing treatment at AIIMS for various ailments related to heart and kidney.
Read Also: 
AIIMS files police complaint against Lalu supporters