Maharashtra: Probe against DMER for fake pathology centres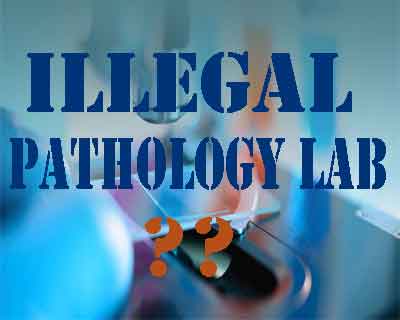 Complaint against Director, DMER for violating Code of Medical Ethics and showing support to quackery in the state
Mumbai: The issue of fake pathology centres, functioning without attachment of a registered pathologists is reported to have taken a fresh turn. For quite some time now Maharashtra Association of Practising Pathologists and Microbiologists ( MAPPM ), an organisation fighting this issue has written a number of complaints to the authorities. One of these complaints has now been directed to medical council of India questioning the role of DMER in the same matter. Further taking cognizance of the same, MCI has now issued a direction to the Maharashtra Medical council to investigate the role of the current DMER and take necessary action for failing to address the issue
The complaint by MAPPM was directed against Dr Shingare, currrent Director DMER, alleging incompetence on his part in taking action pathology laboratories functioning in the state without certified pathologists and siding with these laboratories. The complaint filed clearly stated that Dr Shingare, in his role as a director of DMER, has not only failed to take action against a number of laboratories but has also made statements showing sympathy for the same, reports Asian Age.
Dr Prasad Kulkarni from MAPP told Asian Age, "Since 2001, thousands of pathology labs serving under various names have been testing blood, urine, stool and other bodily fluid samples of Maharashtrians. However, due to the negligence of DMER that is the supreme medical body, offering technical advice to the state government on such issues, reports in these laboratories are signed by technicians and other staff members of the pathology labs who are not even certified pathologists. Despite numerous complaints, Dr Shingare issued letters to district bodies to not take action against such pathology laboratories, violating the very norms of MCI and MMC."
MAPPM president Dr Sandeep Yadav further told
Mumbai Mirror
, "Shingare has been avoiding several serious issues related to quacks and illegal laboratories run by unregistered practitioners or technicians. He has been favouring quacks like DMLTs, helping them run individual labs. This is 'bad' for patients, who may be adversely affected or misled sans the diagnosis of an MD or qualified pathologist. Besides, Shingare has also mentioned that a lab technician will come under the purview of the Paramedical Council Bill of 2012, which contradicts his statement of letting technicians run independent laboratories. This will further encourage other paramedics (nurses, anaesthetists, etc) to start independent clinics. This can't be done without a registered or qualified medical practitioner on board. They are all merely assisting hands."
He added, "Shingare has not only been misleading us by making false promises of bringing an end to DMLTs, but also promoting them simultaneously. He is fooling the government by issuing a GR against DMLT labs, then reissuing a GR the next day allowing technicians to sign reports. Hence, we wrote to MCI and asked that it takes the appropriate action. Shingare is violating many codes of medical ethics."
Producing evidence of Dr Shingare's directives, the letter also mentions two different occasions where he denied testing of bodily fluids as a branch of medicine and said that there is no need to have a certified pathologist to run the laboratories.
However, Shingare was contacted by
Mirror
about this complaint. He replied to the daily stating, "It is true that an association has gone against me and filed a complaint. The truth is that if a patient can check his or her own blood sugar sitting at home with a help of a machine, why not allow DMLTs to provide basic machine-produced test reports? Complicated or infectious diseases that are not easily diagnosed need a qualified MD to check samples, which we do not deny. In fact, for transparency in such reports, we have asked such laboratories to stick to MD qualified pathologists and only compile reports under the supervision of a qualified doctor. However, there is no point in shutting labs for no reason. Instead, basic reports can still be allowed, in which a technician does not need an MD. The thing is, they fear that these DMLTs are a threat to their business, which is why some top pathologists have even tried to bribe me to take their side. I refused them. So, they went ahead and filed a complaint against me. I will revert to MCI with proof of when they came calling."
MCI deputy secretary Ashok Kumar Harit is reported to have contacted MMC and asked them to investigate the case and complaints against Dr Shingare and submit a report within six months.