Maharashtra: Three doctors booked for illegal abortions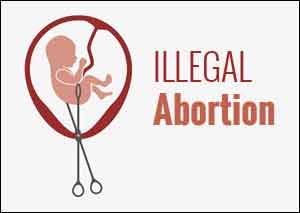 Sangli, Maharashtra :  The city police on Sunday booked three doctors including a woman doctor of Chaugule Hospital in Ganesh Nagar for conducting illegal abortions.

After received a complaint, Health Department of Sangli-Miraj Municipal Corporation, raided the Hospital  with the help of city police, which was running without taking license under maternity MTP act.

According to city police, three doctors were identified as Dr Ms Rupali Chaugule, Dr Vijakumar Chauguloe and Dr Swapnil Jamdade has booked under state medical abort law-1971 section 4 (B), (5), (3) and (4).

After disclosed a big abortion racket in March last year in Maishal village in Miraj tehsil of this district, city police has disclosed a second illegal abortion center in the city, in which seven illegal abortion had took place during last year and booked three doctors including a woman doctor.

Police said after checking hospitals registers, police found total seven illegal abortion cases had took place in the hospital in last year without taking any permission from Municipal corporation or the state government's health department.