Major Change: NBE scraps DNB CET for Post MBBS courses, only one session from 2019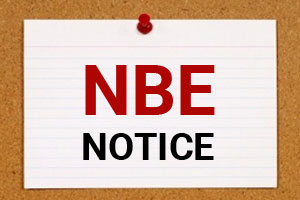 New Delhi: In a major move, the National Board of Examinations has done away with bi-annual admissions to DNB post MBBS, keeping only the January admission session from the next admission year. The decision implies that there will no examination from this year for the July admission session for DNB Broad Specialty courses. Further NBE has clarified that admissions for the January session of DNB Broad speciality courses will be done on the basis of NEET PG examination only.
Through a recent notification National Board of Examinations (NBE) New Delhi informed about the Admission session for DNB Broad speciality post MBBS Courses. The notice along with the official website of NBE is mentioned below:
1. NBE has been maintaining two academic sessions for admission to DNB Broad Specialty (post MBBS) courses - January & July.
2. The admission for DNB Broad speciality courses for January admission session is carried out by utilizing the merit list of NEET-PG. NBE has been conducting a separate DNB CET in June / July every year for admission to July academic session.
3. It has been decided that from 2019 onwards, there shall only be a single admission session for DNB Broad Specialty courses i.e. January admission session. The allotment of DNB Broad Specialty Courses to candidates for January admission session shall be done through merit-based counselling utilizing the merit list of the corresponding NEET-PG.
4. The July admission session for DNB Broad Specialty courses has been done away with. Accordingly, NBE shall not be conducting DNB CET in June/July from 2019.
5. Candidates participating in counselling for admission to PG Medical courses for 2019 academic session are requested to make a note of the above.
Read Also: NBE to hold Hands-on training workshop for hospitals planning to apply for DNB Programme
for more details click on the official website of NBE is given below:
http://natboard.edu.in/pdoof/pbnotice2019/Admission session for DNB Broad specialty (post MBBS) Courses.pdf?h88233erhx90wsd0q2wk2s2ks2weuigfu3g77844jh89de