Major Development for KGMU; 4 Super Speciality Departments approved by UP Cabinet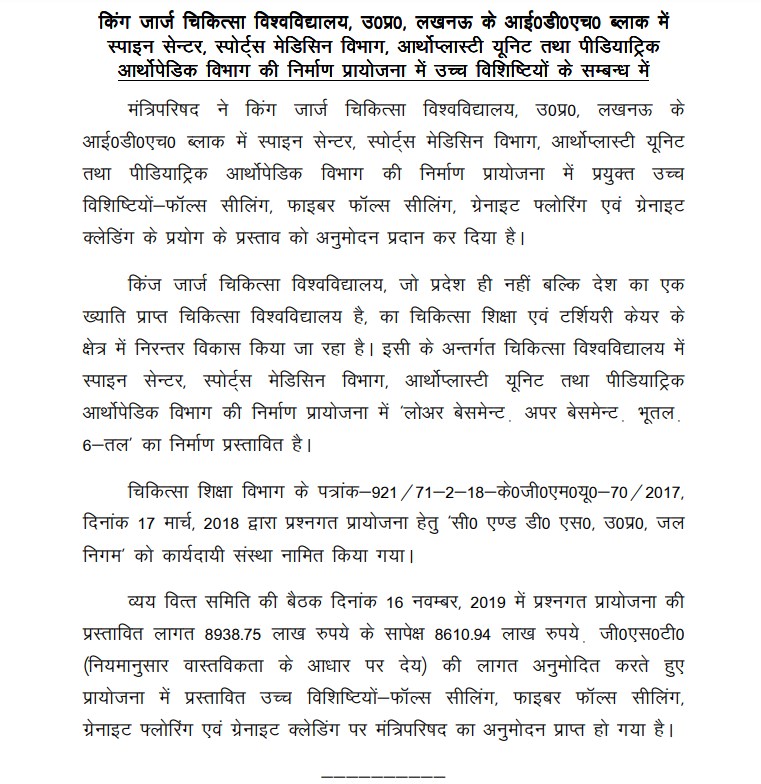 Lucknow: The country's eminent King George's Medical University (KGMU) is set for service expansion as the Uttar Pradesh cabinet has now given its approval for the establishment of 4 super-speciality departments which are expected to be a boon for the state.
The four departments-- Spine Centre, Sports Medicine department, Arthroplasty Unit and Paediatric Orthopaedic Department are going to be set up by 2021. With the approval, the KGMU will provide specialist service to patients with spine-related, sportspersons with injuries; patients needing joint replacements and children with orthopaedic problems, sportspersons with injuries.
To finance the building process, the state cabinet has sanctioned Rs 86 crore for the projects falls sealing, fibre falls sealing, granite flooring and granite cladding.
The cabinet was proposed for fund issuance for the construction of the lower, upper basement and other 2 floors for the establishment of the concerned super speciality departments. Noting that the
KGMU
is not only a renowned institute for the state; but for the country as well which is growing its health facilities day by day, the cabinet gave its nod for setting up the Spine Centre, Sports Medicine department, Arthroplasty Unit and Paediatric Orthopaedic Department in the medical college.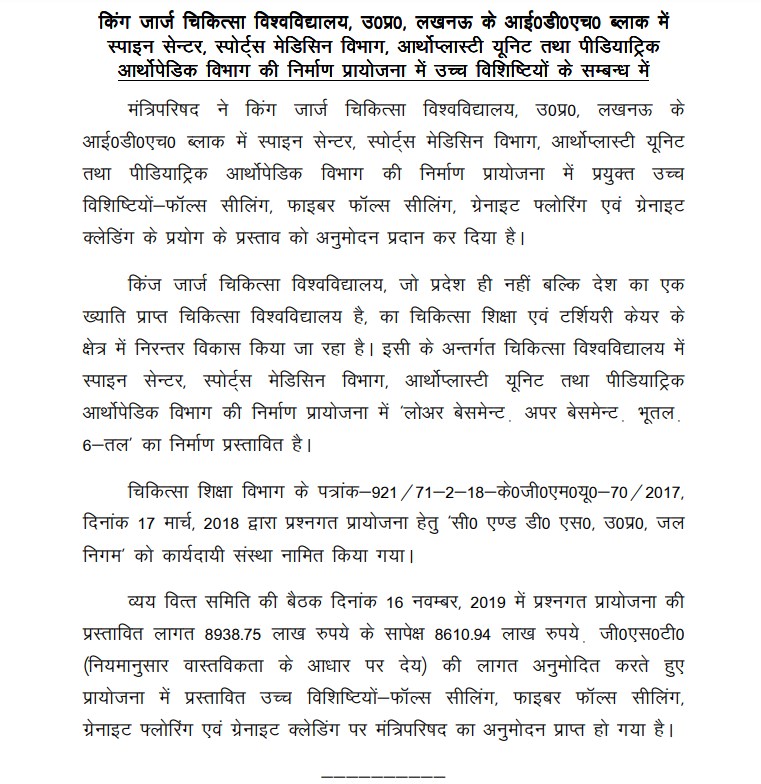 Read Also: KGMU asks for getting status of AIIMS, Home Minister says it will take time
As of now, spinal surgery and arthroplasty are functioning as units of orthopaedic surgery department which will become separate departments after the construction of the space. Sports medicine and paediatric orthopaedic, which are separate departments, will see upgradation.
"Paediatric orthopaedic department presently examines 300 patients a week in its OPD which will go up by 30%. It will also have two separate operation theatres," Head, Paediatric Orthopaedic, Prof Dr Ajai Singh informed TOI
In spinal surgery department, treatment of spinal TB, slip disc, tumour in Spine, deformity correction surgery, lateral and sideways curvature of spinal cord among others will be provided. Head of sports medicine department Prof Dr Ashish Kumar said the number of patients being examined by sports medicine department would be doubled.
Arthroplasty department will offer special surgeries for joint replacement and multiple joint fractures. Glad about the development, Head of arthroplasty Prof Santosh Kumar told
TOI
, "We will be able to cater to five times more patients than presently being treated in the department."