Make advanced cancer treatment accessible and affordable to all sections: Vice President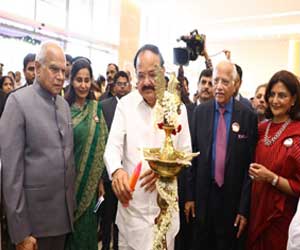 Chennai: Apollo Hospitals Enterprise, India's first multi-speciality chain of hospitals today opened the Apollo Proton Cancer Centre (APCC), giving cancer patients access to a specialised form of radiotherapy that is extremely precise in destroying cancer cells. The Apollo Proton Cancer Centre was inaugurated in Chennai by the Hon'ble Vice President of India, Shri Venkaiah Naidu in the presence of the Hon'ble Chief Minister of Tamil Nadu, Shri Edappadi K. Palaniswami and Dr. Prathap C. Reddy, Chairman, Apollo Hospitals Group.
Opening a new frontier in cancer care, the 150-bed APCC is an integrated cancer hospital in Chennai providing world-class 360 o comprehensive cancer care. The APCC will offer patients advanced multi-room proton therapy with cutting-edge pencil-beam scanning technology that provides the highest degree of precision.
The APCC strengthens Apollo Hospitals' position at the frontline in the war on cancer. The clinical advantages of proton therapy as compared to conventional radiation therapy are many, with more than 200,000 patients successfully treated worldwide. Proton beam therapy takes the fight to cancer with increased precision and greater dose delivery at the precise site of the cancer, minimizing damage to healthy tissue, better quality of life and a higher cure rate. This ultimately results in better results with fewer short and long-term side effects.
The advanced precision of Proton Therapy will now provide new hope to millions of patients for whom treatment options are limited due to the type or site of the cancer and is testament to our commitment to bring the latest proven developments in medical technology for the benefit to our patients."
Speaking on the occasion, the Hon'ble Vice President of India, Shri Venkaiah Naidu said, "Cancer is a leading cause of death worldwide and is a major cause of mortality in India. My heartiest congratulations to Dr. Prathap C. Reddy and the Apollo Hospitals group on the launch of the first Proton Cancer therapy centre that will serve patients not just in India, but also our neighbours in South East Asia. This pioneering treatment also marks a new milestone in the medical journey of our country."
The Chief Minister of Tamil Nadu, Hon'ble Shri Edappadi K. Palaniswami said, "The Proton Therapy Centre at Apollo Hospitals will make this advanced treatment for cancer care easily accessible to patients. Tamil Nadu has always been in the forefront when it comes to healthcare and with the opening of this centre, the State shall continue to offer the best to patients. We extend our best wishes to Dr. Reddy and his team for this ground-breaking effort to make the best-in-class healthcare facilities available to cancer patients in India and abroad."
Shri G. Nageswara Rao, Chairman, AERB said, "AERB appreciates the efforts of Apollo Hospital for establishing the state of art "Proton Therapy" facility, the first of a kind in South East Asia. AERB earnestly hopes this most advanced "Apollo Proton Cancer Centre" will conquer the dreaded Cancer disease at affordable cost in a safe manner to the needy people of India and others in the region."
On the occasion Ms. Suneeta Reddy, Managing Director, Apollo Hospitals Group shared, "Apollo Hospitals has been at the forefront of the incredible progress made by healthcare and oncology in India in the last three decades, so much so that a cancer diagnosis is no longer a death sentence.  We have replaced fear with hope and have given millions of patients the courage to fight the disease and emerge as survivors. With the Apollo Proton Therapy Centre, we will offer patients an answer beyond treatment and survival – we will offer them "survivorship" a full life with an enhanced quality of life for many decades after treatment.