Manipur CM assures full medical staff in health centres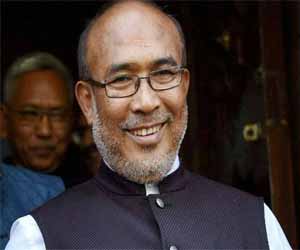 Imphal Chief Minister N. Biren Singh today assured that doctor, nurse and staff required at Health centre will be assessed and adequate staff posted as early as possible.
Mr Biren said the government will look into the feasibility to upgrade Yambem Aided High school to a full fledged Govt. High school.
Also read:- Transformation of 1.5 lakh health centres to be done by 2022: President Kovind
He announced that the state finance position has been improved gradually.
Mr Biren was speaking during the inauguration of a new building of Staff Quarter of Community Health Centre at Yairipok Yambem and Under Graduate Girl's Hostel at Top Chingtha , Andro Assembly constituency in Imphal East District .
Chief Minister said that the Yambem PHC has been upgraded to the status of Community Health Centre as decided by the Cabinet .
He said as a preventive measure of global warming, government has taken up mass tree plantation under CM's Green Manipur Mission. Under this mission,
government has made an appeal to donate five to ten acres of land for tree plantation in each and every villages.
Mr Biren assured that Thoubal Dam right side main canal would be made fully functional at the earliest. SDC Tulihal office which was shifted to Imphal due to law and order situation would be stationed back to its own place.
He stated that the 'Go to Hills' mission had bridged the gap between hill and valley people and strengthened oneness. On the other hand, the 'Go to Village' mission could enable the Government to understand people's woes, grievances and necessities.
Now 'School Fagathansi' mission has been launched with an ambitious objective to provide free and quality education to students, he said and expressed hope that the new mission would certainly benefit thousands of students.
Stating that major chunk of parents' earnings is generally spent in children'seducation, the Chief Minister expressed hope that parents' would now be able to save their hard earned money for their future.
The State could achieve marked changes in School Education Sector in the last 2 years, the overall pass percentage for HSLC examination touched an all-time high of 74.69% which is the highest since establishment of BOSEM in 1972.
Many people have benifitted various welfare schemes introduced by the present govt. like CMHT, CMST, Meeyamgi Numit, Hill Leaders Day and Go to Village, he added.
Also read:-12,500 health centres to be identified to deliver traditional medicinal services: AYUSH Ministry
Forest and Environment Minister Th. Shyamkumar said he is optimistic that Chief Minister will definitely provide the required infrastructures and manpower of the CHC.
CM, Forest minister, MLAs, Grand Ambassador (Green Mission) Valentina Elangbam and South Korea DJ star Soda also planted saplings on the occasion.