MARD writes to Human Rights Commission over inhuman working hours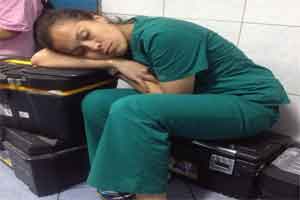 Maharashtra Association of Resident Doctors (MARD) has written to State Human Rights Commission citing the inhuman conditions in which resident doctors in Maharashtra are working. In the letter, Sagar Mundada, President MARD cited a supreme court order which cited that resident doctors should work for maximum of 48 hours in a week and should not be made to work for more than 12 hours in a stretch.
Citing that the reality is far from this, the letter stated that resident doctors work twice the upper limit fixed with the number going upto even 100-120 hours in a week. Further MARD claimed that residents in Maharashtra are forced to do continuous duty extending to 30 hours in a stretch affecting the health of the residents as well as the patients that they treat. The letter also focused on the poor living, operating and dietary conditions of the residents, whereby more than 50 doctors have contracted tuberculosis in the last 3 year.
Requesting on behalf of its 4500 members, MARD pleaded the commission to look into the matter.
This comes just days after, the National Human Rights Commission cracked down on the health department in
Delhi over the poor state of health infrastructure in the city