MBBS Interns at Private Medical Colleges to now get Stipend: MCI BOG nod to proposal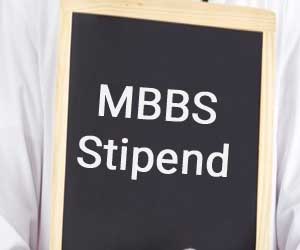 New Delhi: In a move that is going to bring relief to thousands of MBBS students across the private medical colleges in the country,the Medical Council Of India Board of Governors (MCI BOG) recently has decided that private medical colleges will also have to pay stipend to its MBBS interns just like their government counterparts.
Stipend parity has been a long-standing demand of MBBS interns practising at different private medical colleges in the country. It has been repeatedly been alleged that the interns at private medical colleges are indeed treated as slaves and not even paid enough stipend to enable them to meet their basic needs. There also have been many instances where private medical colleges have not even paid the stipend to its interns to continuous periods of time
The issue had been raised with the Medical Council of India at numerous points in the past, however, the MCI had shown its inability to take action against the private medical institutions on the issue of non-payment of stipend/payment of low stipend citing lack of authority with the council to take action in this regard. The issue was brought up one of the Executive Meeting of the council in 2017 but the EC held that "Graduate Medical Education (GME) Regulations 1997 do not provide for the payment of stipend to the interns" and that the issue was beyond the purview of the council.
In the month of January 2019, The apex medical regulator MCI  approached to subject and came with a proposal to add the following proposed amendment with relation to stipend in the Regulations on Graduate Medical Education, 1997. The same was also put in public domain for comments
"All the candidates pursuing compulsory rotating internship at the institution from which MBBS course was completed, shall be paid stipend on par with the stipend being paid to the interns of the State Govt. Medical Institution / Central Government Medical Institution in the State / Union Territory where the institution is located."
Read Also: Uniform Stipend to MBBS Interns: MCI BOG issues Public Notice, invites Suggestions
Indian Express now reports that in its recent meeting, the MCI BOG has given its nod to the proposal. Other formalities regarding this are likely to be completed soon. A senior MCI-BOG member informed the daily the move was aimed at ending the disparity between students in private and government colleges.
"It has been decided that if a student of a private medical college does an internship at a hospital of the same college, the hospital will have to pay that student. However, in case the student pursues internship from another hospital, he or she will not be paid," the official clarified to the
Indian Express
.