MCI orders suspension of Medical College Dean for Impersonation, fake documentation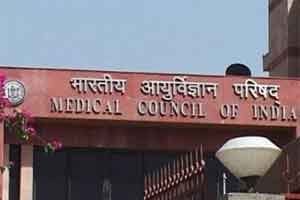 Chennai: Just a day after the reports came out that Medical Council of India has ordered TN Medical Council to initate action against a faculty for false declaration and showing association with two medical colleges in the same academic year, it is reported that the MCI has now ordered suspension of a medical college dean on account of presenting fake documents as well as impersonation.
The case is that of Melmaruvathur Adhiparasakthi Institute of Medical Sciences and Research in the Kancheepuram district of Tamil Nadu, where the dean may be facing suspension of three years for fake documentation. This came after a sub-committee formed by the MCI, scrutinised the declarations of the faculty members of various medical colleges, for the purpose of assessment of 2015-16.
The committee found the name of Dr Nookala Sunil Kumar listed as faculty member of Narayana Medical College, Nellore, in an inspection on September 27, 2014, and as a member of the Melmaruvathur college the next month. As reported by MD team earlier, a faculty cannot be associated with two medical colleges for the same academic year, leading to a violation of the medical ethics.
Further investigation into the matter, revealed that the faculty had no association with the said college, and his name had been used and documents forged for the purpose of investigation.
" As the head of the institution, the dean of the college would be held accountable and liable for the violation of Medical Ethics," explained Dr Senthil, President, Tamil Nadu Medical council
As per the MCI directions, the dean is now facing a suspension of upto three years. While the MCI has now now written to the Tamil Nadu Medical Council, for initiating the action, the state medical council is expected to make a move in the coming few days.
Read Also : 
Chennai: MCI orders suspension of Doctor for false declaration