MCI Ovesight Committe Vetoes AGE and Attempts Limit to NEET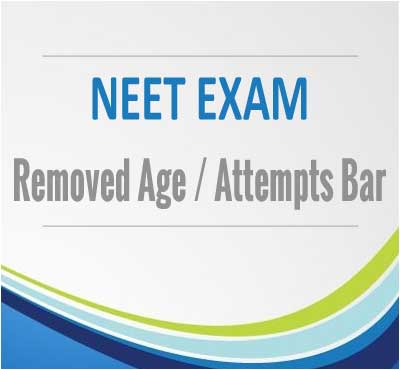 New Delhi: Bringing good news for the medical aspirants across the country, the Medical Council of India is most likely to withdraw its controversial order putting a cap on the age and number of attempts in relation to the National Eligibility cum Entrance Test.
This comes after the Supreme Court-appointed Lodha panel has vetoed the government move to cap the age of students and the number of attempts they are allowed to clear a top all-India exam for entry into undergraduate medical schools reports
HT
. The panel has specified that it is not in favour of any such caps in the view "dearth of doctors in the country"
Recommendations to this effect was put forward by the said MCI oversight committee on February 28th to both the MCI as well as the ministry of health.
The Supreme Court will now take up the panel's suggestions on March 20. Should the court accept those, the Central Board of Secondary Education (CBSE), which conducts NEET, might have to rework the applications process that closed on March 1 adds HT.
While the final decision is indeed pending with the Apex Court, the recommendations are already being looked into by the medical regulator. Times of India reports that a confirmation to this effect was made to the daily by the MCI vice-president Dr CV Bhirmanandham-"The oversight committee felt such limitations will reduce the number of doctors in the country. The Union health ministry agreed and suggested recommendation to us. We have passed it," he told TOI. "We give everyone the opportunity to clear the test. Students who don't make it this year either because they haven't prepared for the test or because they haven't applied for the test on time can always try later. It gives even undergraduate students of BSc an opportunity," he added
Medical Dialogues team had earlier reported, that in the month of January, 2017, UGC has come out with a controversial order limiting the number of attempts to NEET at Three as well as putting age bars on the candidates with maximum age to appear being 25 years in the general category as well as 30 for the reserved category
Read Also:
NEET limited to three attempts, Age limits put in place: UGC