ANBAI, AHPI, MS Ramaiah Institutions launch apprenticeship program for FMGE candidates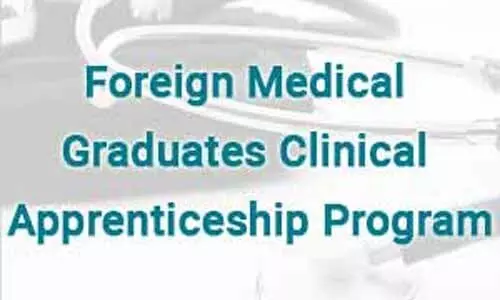 Bangalore: In order to help various medical students who pursue their MBBS abroad, but are unable to clear the MCI screening exam, that is Foreign Medical Graduates Examination (FMGE), ANBAI, AHPI have now launched a 6-month clinical apprenticeship program in association with M.S. Ramaiah Institutions
A significant number of students of Indian origin do pursue and complete basic undergraduate Medical Education in many countries outside India and it is mandatory for these graduates to pass the Foreign Medical Graduates Examination to enrol into the Medical Council of India and become eligible to practice in India. The percentage of student clearing the Foreign Medical Graduate Examination is less than 25%.

Thousands of such doctors in our country are unable to pursue their profession which is a great loss of trained manpower to our country simply because they are unable to pass the FMGE examination.
"In order to enable such Foreign Medical Graduates to become familiar with the Indian health care systems and equip themselves both in theory and practicals and to successfully clear the Foreign Medical Graduates Examination it is proposed to create a comprehensive clinical observership/ apprenticeship programme for these students." said Dr Alex Thomas, President AHPI
Details of the clinical apprenticeship program
Duration - 6 months
Final year centric with emphasis on Medicine, Surgery, Obstetrics and Gynaecology, paediatrics, ophthalmology, anaesthesia, radiology and community medicine especially relating to Indian data.
Such Foreign Medical Graduates who have enrolled for the program will during the training work as physician assistants and gain practical knowledge. Through the support of a Technology partner, systematic form of teaching will be imparted, incorporating webinars and the students will also be assessed through MCQ based mock tests.
Four organisations will be involved in offering this program;
1. Association of healthcare providers India [AHPI]
2. M.S. Ramaiah Institutions
3. Association of National Board Accredited Institutions (ANBAI)
4. LM exellence
For more details about the program check out