MD-DNB Equivalence: MCI, Oversight Committee to jointly decide fate of DNB candidates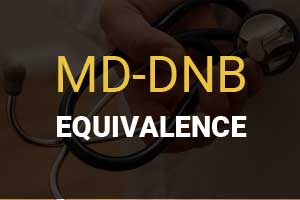 New Delhi: The issue of MD-DNB equivalence is soon likely to get a clarity of stand from the Medical Council of India as a medical council committee has requested a joint meeting between the Oversight Committee and the representatives of the council to jointly decide the matter.
Medical Dialogues team had earlier reported that the MCI had made its stand on the matter quite clear, stating the DNB candidates from non-teaching hospitals would have to do additional 3 years SR-ship to be able to enter medical academia. The PG committee of the council had also recommended removing the mandatory 3 year JR ship clause for such candidates. The same had been approved by the MCI board.
However, the oversight committee sent different recommendations to the Ministry of Health and Family Welfare, as a result, the matter had now been referred back to the council. As per a recent MCI  committee report, the council representatives are to meet the OC to reach a final conclusion on the matter
It is reported that  PG Medical Education Committee after perusing the matter and after discussions with the oversight committee had come with the following observations last year:
"…..The Postgraduate Medical Education Committee reviewed the whole issue of DNB equivalence with MD/MS (earlier notifications, correspondence from Govt.& views of Supreme Court mandated oversight committee). In a meeting with oversight committee on 22-9-2017, it was discussed that it is common observation that DNB candidates trained in non-teaching hospitals need practical experience in medical colleges for improvement in knowledge and skills to come at par with those trained in teaching institutions.

It is also a fact that large majority of specialists working in non-teaching hospitals (irrespective of number of beds) have no teaching experience and they are focused on one particular area which is their field of specialization whereas postgraduate trainees need vider exposure. At the same time most of the consultants are working at multiple hospitals and they are provided an OPD chamber for a few hours on limited weak days.

Still more important is the fact that in private hospitals (irrespective of their bed strength) all patients are paid patients and they expect to be treated only by the consultant of their choice for whom they are paying. They do not allow trainees to handle   them or perform any procedure on them on account of which trainees do not get adequate hands on experience. It will be pertinent to mention here that Medical Council of India does not count private ward beds in teaching institutions as teaching beds. Fully realising that there is shortage of faculty in newly opened medical institutions, but this aspect alone cannot overweigh the quality of medical teachers to be appointed since that is going to affect the standards of medical education in the country (present and more so in future).
After detailed deliberations, the Post Graduate Medical Education Committee reiterated its earlier decision dated 10/10/2017 that:
(I) Those candidates who pass DNB(broad as well as super-specialty courses) from non-teaching institutions be required to work as senior resident for three years in a teaching institution in the department concerned for appointment to the post of Assistant professor.(II) They may be considered eligible for appointment to the post of senior resident immediately after passing DNB without asking them to do 3 years junior residency before appointing them as senior resident.
As per the recent MCI committee meeting report, the  above decision had been first approved by the oversight committee, However, in a letter dated 16.11.2017 and 19.02.2018 from Secretary, Oversight Committee to Joint Secretary, Govt. of India, Ministry of Health & Family Welfare, the Oversight Committee have issued directions contrary to the above-mentioned decision.
With lack of clarity between the MCI as well as MCI oversight Committee on the matter, the PG Medical Committee of the Council decided to ask for another meeting with the Oversight Committee so that the matter can be re-discussed quickly
The matter is of utmost importance and will have a bearing on the standards of medical education in the country. Hence, it was decided that the Oversight Committee be requested for another joint meeting with representatives of Medical Council of India for a re-discussion on the matter